Review: Fotodiox Compact Rig
The Perfect Handheld Rig for Mobile Video Production?
Frequent travel and impromptu documentaries require me to be light and mobile. As such, all essential video production gear needs to fit in a single camera bag.
If a camera is too bulky, it doesn't matter what kind of image it produces, because it's going to end up staying at home. This is why a camera like the Panasonic GH3 is a great fit because it delivers professional results in a compact package.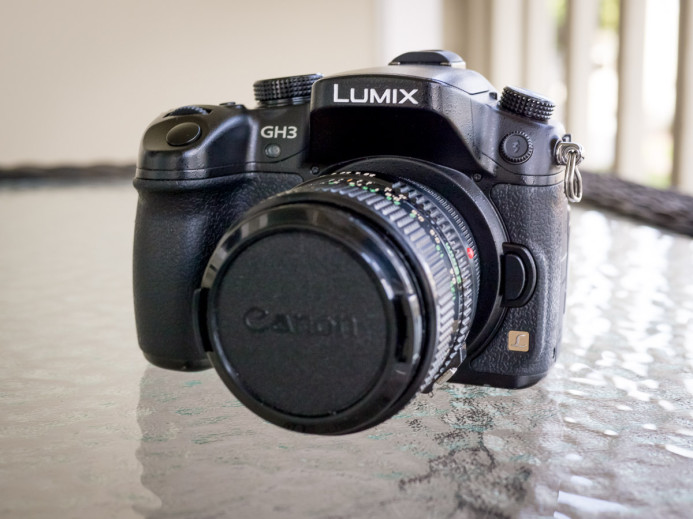 Likewise, a handheld video rig must be small enough to fit in the camera bag, yet it must also effectively stabilize footage and provide mounting points for additional components.
I picked up the Fotodiox Compact Rig before heading to Japan last year to find out how well it would fit into a minimal video production setup.
This is a review of the Compact Rig after using it across the globe over the past year as a run-and-gun travel & documentary shooter.
Features
The Compact Rig is rather stacked in terms of features for such a small device:
Compact folding design — a full handheld rig for video production that folds up small for storage and transport.
Adjustable chest brace — provides a point of contact between the camera and your body to stabilize footage.
15mm rods — mount accessories like handles or a follow focus using industry-standard 15mm rods that flip out on-demand.
On paper, it's virtually a Swiss Army knife for video production, but does the Compact Rig deliver in actual use? The answer is "yes and no." Read on to find out where the Compact Rig excels and where it falls short.
Compact Size
Living up to it's name, the Compact Rig is quite compact. At only 142 x 49 x 65mm, it's basically the size of a battery grip in its folded state.
Paired with the GH3, the Compact Rig's size is nearly perfect– it's like it was custom-built for this camera. Though its base is ever so slightly wider than the GH3, the Compact Rig feels like a natural extension of the camera, adding a good amount of grip below the camera when mounted. It improves ergonomics enough that I often keep the Compact Rig attached to the GH3 even during still photography sessions.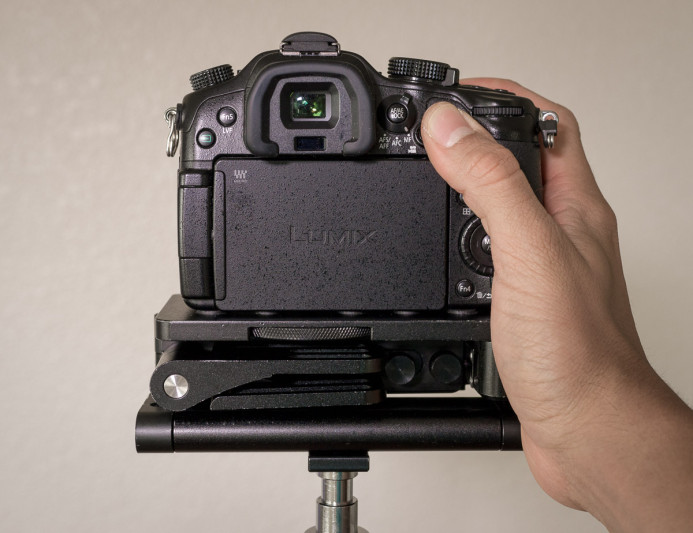 Considering that the Panasonic GH3 (132.9 x 93.4 x 82mm) is even smaller than Canon's diminutive Rebel T5i (133.1 x 99.8 x 78.8mm), the Compact Rig will not overwhelm the size of any DSLR.
Transform
At a moment's notice, the Compact Rig can be transformed into a fully-functional handheld video rig by unfolding the chest brace and front-facing 15mm rods.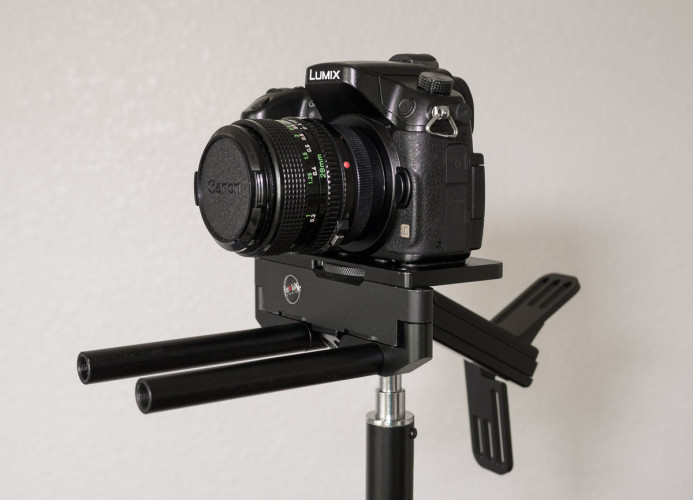 When expanded, the Compact Rig is large enough to add stability when shooting, but not so big that it draws attention. In addition, the Compact Rig's matte black finish helps to keep the whole setup fairly inconspicuous.
Roll Out
When it is time to pack up, the Compact Rig folds down into a very manageable block that easily fits in the camera bag. You'll definitely appreciate that there are no protrusions to snag on the bag or scratch other gear when the Compact Rig is folded.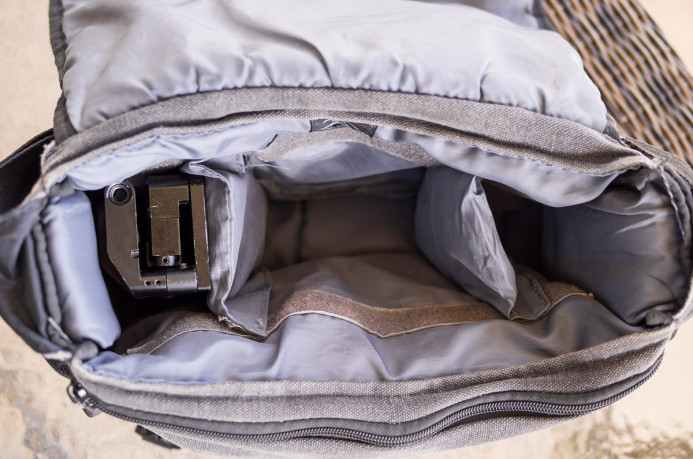 If your bag will fit a camera with a battery grip attached, you don't even need to remove the Compact Rig from the camera. Though it is a tighter fit, I had no issues putting the camera with Compact Rig still attached into the bag for short-term storage.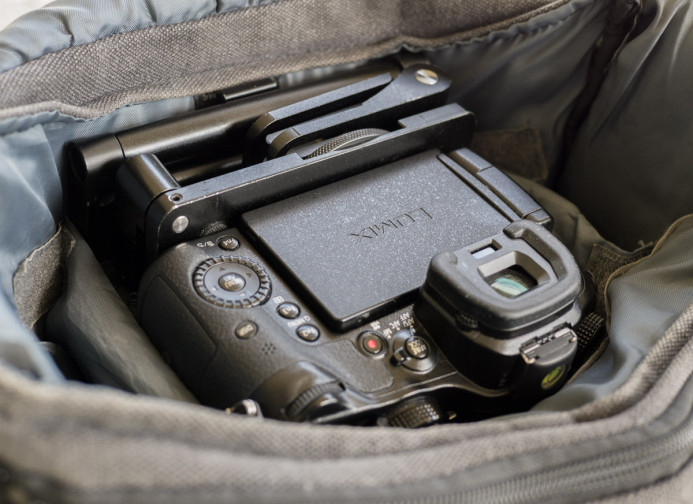 Bottom line: The size of the Compact Rig cannot be beat.
Beefy
We run into a bit of an issue when it comes to the Compact Rig's weight. Owing to it's steel construction, the Compact Rig is surprisingly heavy, weighing in at a beefy 622g (22oz).
Weight is a double-edged sword on a handheld rig. On the one hand, adding mass helps to stabilize footage by removing micro-jitters inherent in these smaller cameras. On the other hand, more weight means that you will become fatigued sooner, making shooting for long periods less practical.
I would have liked to see the Compact Rig made out of a lighter material like aluminum, as the chest brace should be adequate for stabilizing the camera, making the additional weight unnecessary.
Mounting
Quick setup is key to an effective camera rig. If you miss the shot while trying to get the camera mounted, the rig is worse than useless.
Thankfully, the Compact Rig is quickly attached to the camera using it's large mounting thumb wheel.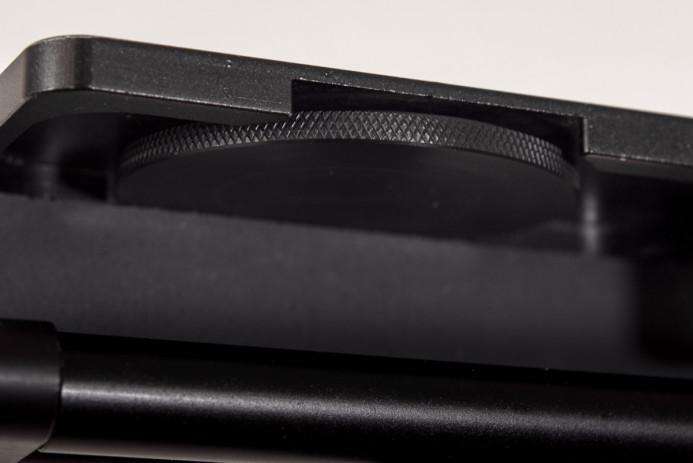 5 Second Setup
Simply place Compact Rig under the camera's tripod mount and turn the wheel. The large wheel provides great leverage for securely mounting the Compact Rig to the camera in about 5 seconds.
Battery Access
The camera's battery door is blocked by the Compact Rig's base, but the large thumb wheel makes this a non-issue. 1 full twist of the wheel is all it takes to loosen the mounting screw enough to rotate the camera for access to the battery door.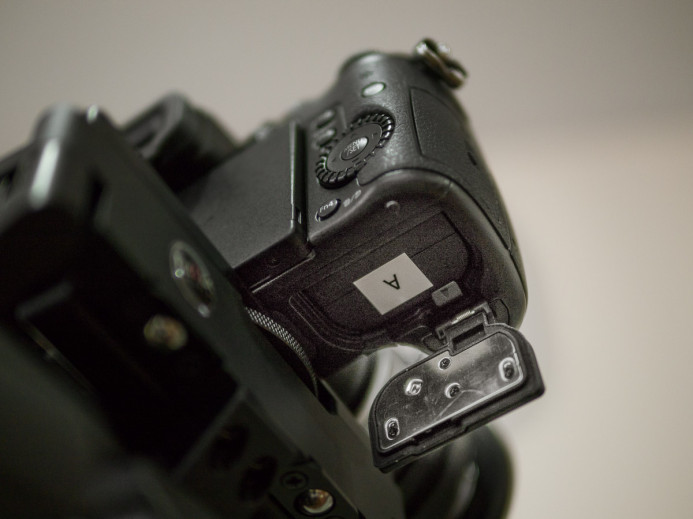 Swap out the battery, rotate the camera back, and tighten it down. Battery changes are super quick on the Compact Rig.
Tripod Mounting
The bottom of the Compact Rig also has a standard 1/4″-20 hole for mounting to a tripod.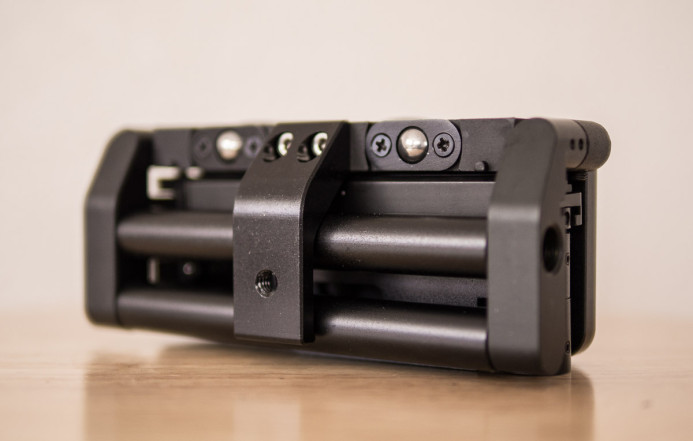 The tripod mount provides a fairly solid connection, except that there's less surface area between the Compact Rig and the tripod plate than I would like. If the mount were twice as wide, it would provide a much more stable base on a tripod without adding to the Compact Rig's overall volume.
Chest Brace
A properly balanced shoulder rig is great for shooting stable video. I've used shoulder-mounted systems ranging from ENG cameras to DSLRs on shoulder rigs for over 15 years. Unfortunately shoulder rigs are large and thus do not make good travel companions.
The Compact Rig's fold out chest brace is definitely more compact, but there are also a few drawbacks that you will need to consider.
Eliminate Micro-Jitters
Extending the Compact Rig's chest brace and pressing it against your body can make a huge difference in the prevalence of annoying micro-jitters in your footage.
The footage still has a handheld aesthetic, but the nausea-inducing micro-jitters are effectively eliminated.
Ample Adjustments
Using 2 knobs, the chest brace's length is adjustable from 127mm (5in) to a surprisingly long 298mm (11.75in). Unless you have extremely long arms, the chest brace is adjustable enough for virtually any user.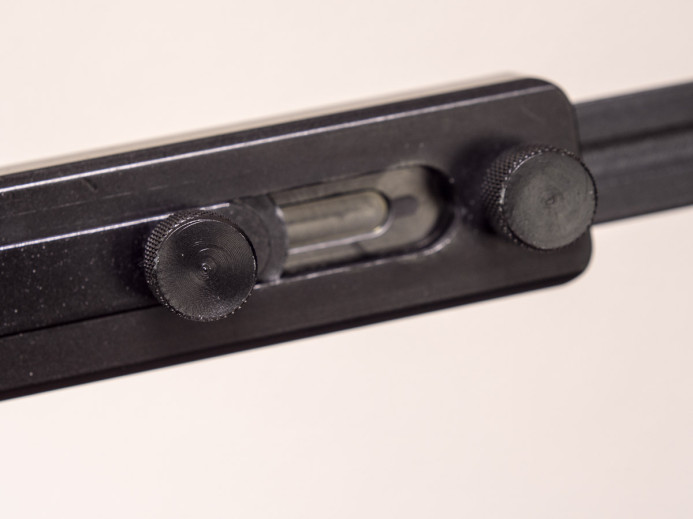 The angle of the chest brace's arm is also adjustable, allowing you to position the Compact Rig higher or lower depending on your shooting style. For example, you can position the Compact Rig directly in front of you if you are using the camera's LCD monitor, raise it higher if you are using the camera's EVF, or lower it if you are using an external monitor mounted on the camera's hot shoe.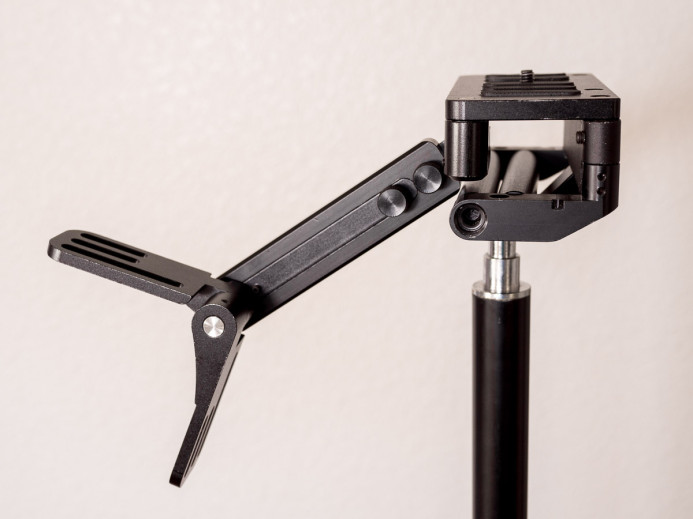 The chest pad at the end of the arm is also adjustable to allowing you to customize it to the shape of your body. The bare metal of the chest pad is not terribly uncomfortable when pressed against your chest, though some sort of cushion would be nice when shooting all day.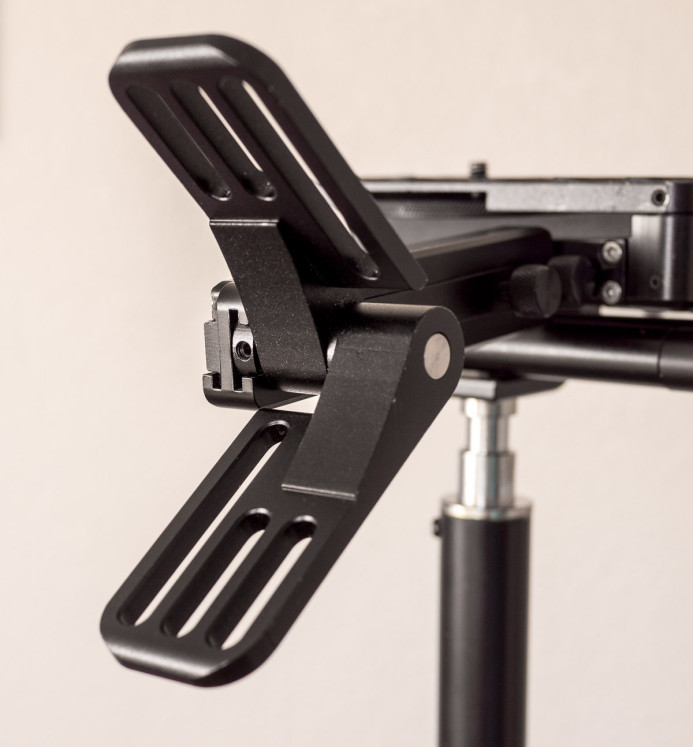 Unhinged
Unfortunately, the chest brace's flexibility is also one of the Compact Rig's weak points. While you can effectively lock the length of the brace's arm, you cannot lock the angle of it's various joints, making it possible for a joint to buckle under pressure.
Pressing the chest brace against your body is necessary for stabilizing the camera with the Compact Rig. Because they cannot be locked, the very same joints that allow the brace to fold into the Compact Rig for storage can ruin a shot because they can spontaneously shift when you firmly press the brace to your chest.
The best you can do is tighten the joint screws as much as possible. Even then, any one of the joints could buckle when you press the chest brace against your body for support. This issue makes it difficult to have confidence in the chest brace when you need it most.
Locking joints may add a bit of bulk, but they would make the chest brace rock solid. As it is, I do not feel like I can really depend on the Compact Rig's chest brace for support in rough conditions.
On top of that, the chest brace's joint screws require frequent retightening, most likely due to the regular folding and unfolding of the chest brace. This means that you'll need to carry 2 different Allen wrenches (included with the Compact Rig) to keep the various joint screws tight.
The frequent retightening could eventually strip the threads on the tiny screws, so a more permanent solution may be to add some blue Loctite to the screws to hold them in place.
Flipping out for 15mm Rods
One of the Compact Rig's best features are the flip-out 15mm rods. These are great when you need them, with only a few caveats.
When not in use, the rods are neatly folded away under the base of the Compact Rig.
When it's time for the rods to come out to play, they rotate around from the back and are held in place by spring-loaded ball bearings.
The 115mm (4.5in) long rods are perfect for attaching industry-standard accessories like a follow focus and a couple of handles, allowing you to the Compact Rig in various configurations.
The included rods are too short for mounting something like a matte box, but they screw into the Compact Rig using the standard 1/2″-13 threading so you can attach compatible rods of any length you require.
Strangely, while both ends of the included rods are threaded, only one end has the standard 1/2″-13 thread, so you cannot simply extend the rods. Instead, you will need to remove and replace them if you need longer rods.
The fold-away design adds great versatility, allowing you to have access to rods in an instant. You can even fold out one rod to connect a single handle which I find really handy.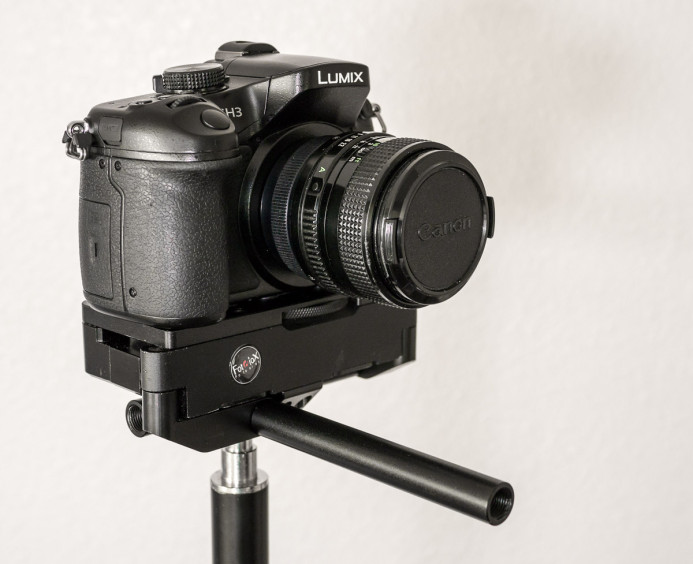 However, you need to make sure to really tighten the rod when using a single rod for support. If it is not adequately tightened, it is possible for the rod to loosen since it is simply screwed in.
Though I rarely encountered an issue when using a single rod, attaching a clamp that extends across both rods will keep the rods from rotating, so this issue is pretty easy to solve when you need ultimate rigidity.
Conclusion
The Fotodiox Compact Rig packs quite a punch in such a small package. It folds up easily to fit practically anywhere, but can transform at a moment's notice to provide a fairly stable handheld video rig.
At under $150, it's also quite affordable.
I have enjoyed using the Compact Rig when traveling, but the weight and non-locking chest brace make it less than ideal for my needs.
If it were lighter and the chest brace could be solidly locked down, the Compact Rig may have a permanent spot in my camera bag. As it is though, I've needed to remove it from the bag to make room for something that will provide dependable rock solid support.
Finding a tool that is as compact as the Compact Rig is a tall order. I am currently testing something that might just fit the bill, but that is a review for another time.
Related
Fotodiox Compact Rig — An affordable full handheld rig with chest brace and 15mm rods that folds up neatly into a pocketable block when not in use.
Panasonic GH3 — Quite possibly the best balance of professional video functionality and still photography quality you'll find in any camera.
Japan — The Compact Rig and GH3 helped me capture amazing photos and video while traveling throughout Japan for several months.