Find the Perfect Song (for Free): 16 Unique Artists Offering Free Music for Your Videos
Finding the perfect music for your project is hard. Use this list of unique artists to make it easier.
Finding free music for your video is not difficult– directories like YouTube's Audio Library, Vimeo's Music Store, and the Free Music Archive bring a huge variety of free songs right to your door.
Unfortunately, we don't always have the time to wade through all of the noise to find that perfect song. Even if you do, many of the songs in these directories have often already been used in several other videos.
What you need are sources for music that are unique and focused. This way, you can go directly to the artist that matches the mood you're looking for to find the perfect song without a lot of digging. Additionally, by going off the beaten path, there's a better chance that your video will have music that no one has heard before.
It's like having your own private collective of composers. Here is a selection of unique artists that made their music free to use in your videos. Most of the songs can even be used in commercial projects, as long as you credit them for the songs that you use.
Steven O'Brien
Steven O'Brien's orchestral music covers a wide range of styles to fit a variety of scenes from epic battle sequences to an emotional moment between two characters.
John Vallis
John Vallis has released his first 3 EPs of thoughtful piano music for free under a Creative Commons license, making it easy to use in any of your projects.
Ryan Constantino
From adrenaline-fueled electronica to tense orchestral tracks, Ryan Constantino's free songs are a great way to add production value to your videos.
Eric Matyas
Tracks are organized by style on Eric's website, making it easy to find the perfect song to match your scene, whether it's dark and ominous or quirky and fun.
Chris Zabriskie
Chris Zabriskie has released over 80 free tracks for use in your projects ranging from smooth ambient sounds to heartfelt piano solos.
Blacksona
London-based Blacksona (Stefan Turner-Powell) has released over 6 hours of ambient music for use in your videos. Some of the tracks are nearly 20 minutes long, giving you ample material to work with.
South Second
Check out South Second's album, Summer of Our Content, if you're looking for some indie rock tracks for your video. Some tracks are reminiscent of The Beatles, while others have a touch of The Doors.
Avaren
Avaren (Jack Blake) has released 20 songs composed of energetic synth sounds for anyone to use in their videos.
whatfunk
whatfunk's haunting ambient songs are a great way to add some much-needed atmosphere to your video.
Asidus
Asidus offers up over 50 synth-heavy trip-hop tracks for use in your videos.
Outsiders wewantin
If you need some well-made hip-hop music, look no further than Outsiders WWI. They currently have over 30 original tracks available for you to use.
Three Chain Links
Be careful, Three Chain Links' (James Hall) 80's inspired 8-bit video-game infused songs are definitely going to spark your nostalgia for Saturday morning cartoons.
Josh Woodward
Whether you're looking for something "light and cheery" or "slow and dramatic", there's a good chance you'll find it in Josh Woodward's selection of music. In fact, those are just two of the categories Josh's 200+ songs cover! As a bonus, instrumental versions are available for most songs as well.
Kevin MacLeod
If you're looking for an artist that breaks through genres before breakfast, Kevin MacLeod is your guy. You'll find everything from Classic Rock to Christmas songs on his website, all free to use in your projects.
Audionautix
Audionautix (Jason Shaw) is another music that doesn't just stick to one genre. He's released country songs right alongside reggae jams, and all of it is free.
Jambic
From solemn cello solos to quirky guitar-plucking tracks, you'll find a nice range of musical styles from Jambic's music.
Bonus: AAAHH Records
Unlike most of the others listed here, AAAHH Records is a collective of artists, rather than a single artist. Most of them play indie pop/rock music though, so it's still a good option for finding a particular style of music.
Bonus: Musopen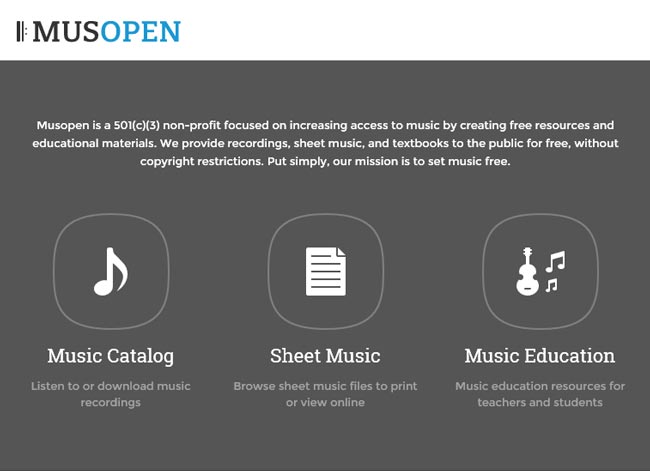 Musopen doesn't just feature music from one artist, but rather offers music from composers several hundreds of years old! If your video could use a dose of refinement, the public domain classical music curated by Musopen could be exactly what you need.
Calling All Musicians
If you want to share your music with filmmakers from around the world, send me a link to your site on Twitter or Facebook and it may be added to this ever-growing list of unique musical artists.