Why DSLR Shooters Love the Panasonic GH4
6 (More) Reasons
If you're a DSLR shooter, using the Panasonic GH4 is like waking up from a bad dream. The workarounds and compromises you've had to endure with DSLRs just melt away.
There was such a great response to the first post on the benefits of the Panasonic GH4 compared to standard DSLRs, but it doesn't stop there! Here are 6 more reasons why you will love the GH4 (especially if you're a DSLR shooter):
1. Solid Build Quality
When you pick up the GH4 and hold it in your hand for the first time, you know that this is one solid camera.
Thanks to it's magnesium-alloy frame, the GH4 remains light yet is strong enough to take a beating. The GH4 does not feel like a delicate camera that you need to coddle.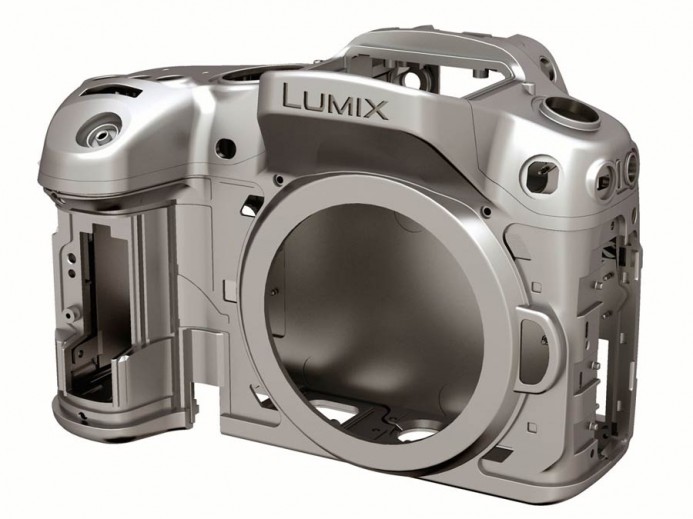 The GH4 is also weather-sealed, which means that it will keep on shooting, even when conditions are less than ideal.
Bottom line: The GH4 is a mini tank that can handle the harsh environments you need to shoot in.
2. Build It Up or Keep It Lean
No camera is right for every situation, but Panasonic have built the GH4 with expandability in mind so that it can grow to meet the needs of larger productions.
By default, the GH4 is a compact machine capable of producing amazing images, while still remaining light and mobile.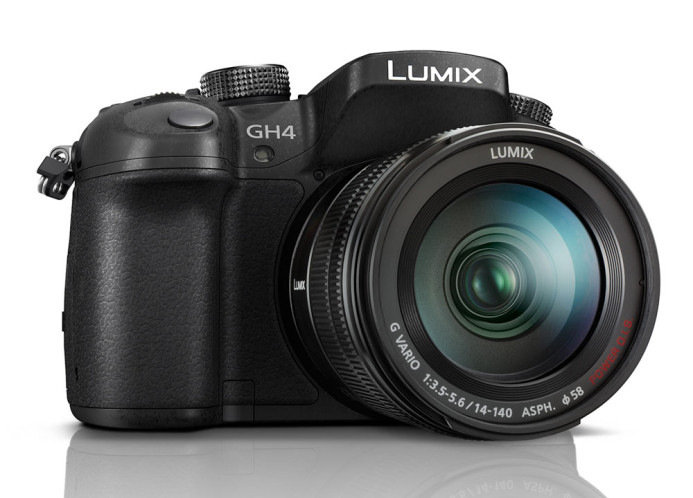 However, when a project calls for a camera with more robust connectivity to integrate into a professional production environment, the GH4 can call upon the YAGH interface unit Voltron-style to give it the boost it needs.
The YAGH interface unit adds professional connections to the GH4, such as XLR audio inputs, quad 3G SDI outputs, and even a time code input to sync the GH4 to other devices on set (e.g. other cameras, audio recorder, etc.).
Bottom line: Build the GH4 up for professional production, break it down to take a compact 4K camera with you on vacation.
3. Focus Peaking Resurrects Manual Lenses
When you use adapters to use non-native lenses with the GH4, you lose some modern conveniences such as autofocus. However, thanks to focus peaking, you won't miss autofocus for long.
The GH4's focus peaking functionality highlights areas of the frame that are in focus as you manually adjust a lens' focus ring. The highlights make it easy to quickly nail focus.
Some of the best glass is decades old (especially for video) and focus peaking breathes new life into these old legacy lenses. Decommissioned lenses that previously sat in a (hermetically-sealed) box in the closet can now come out to play once again.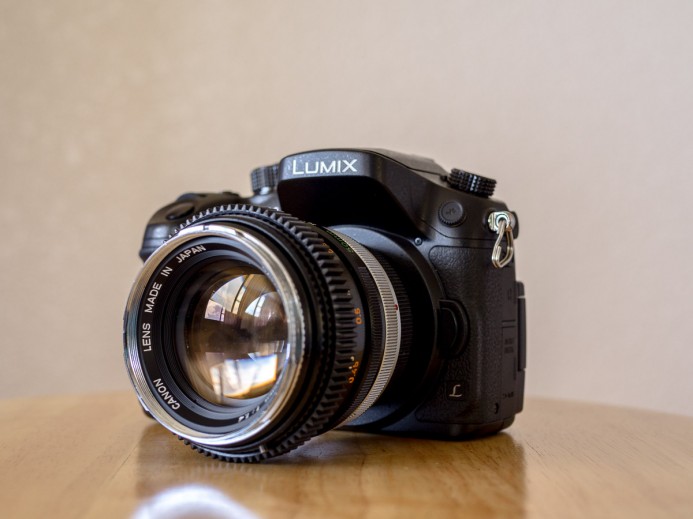 Bottom line: Focus peaking makes manual focus fun again.
4. Super-Powered Viewfinder
If you're used to shooting with an optical viewfinder on a standard DSLR, the GH4's electronic viewfinder (EVF) may be a bit of a shock at first.
You'll be looking at a monitor rather than through a "window" so the EVF may take some time to adjust to. Thankfully, once you do adjust to the GH4's EVF, optical viewfinders will just seem boring.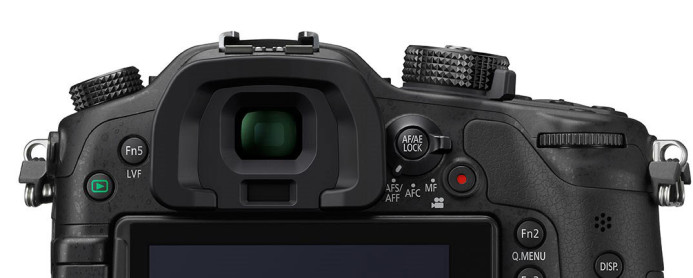 Here are just some of the things that make the GH4's EVF shine:
Sharp — The GH4's EVF has been upgraded to be sharper than ever before making critical focus possible.
Smooth Motion — The EVF's refresh rate has been increased to deliver smoother motion than ever before. Motion is very lifelike and lag-free.
Perfect for shooting video — Instead of requiring a loupe on the LCD screen to imitate a camera's viewfinder when shooting video, the GH4 lets you use the actual viewfinder. This provides an additional point of contact to stabilize the camera without the need for expensive bolt-on attachments.
Consistent image — The GH4's EVF reflects the camera's current settings to shows you exactly what is being recorded. Everything including exposure, DOF (depth of field), and white balance are displayed live in the EVF, allowing you to shoot with confidence.
Customized view — Select from multiple viewing modes for the EVF. Need more contrast? Just enable the monochrome display and the EVF's image will be displayed in black and white. Try that with a standard DSLR!
All the details — Every detail of the GH4's current settings are available at a glance in the EVF. Now you can know exactly what settings are activated without taking your eye away from the action.
Focus peaking & friends — Using focus peaking, focus magnification, and zebras in your camera's viewfinder might seem like a dream if you're used to the rudimentary functionality of optical viewfinders on standard DSLRs, but it's a reality on the GH4.
Bottom line: The GH4's EVF is awesome for video.
5. Instant Slow Motion
Most standard DSLRs will provide a way to shoot 60fps (though it's usually limited to 720P), which is great for capturing video at 2.5x slow motion.
The problem is that you only get to really see the result of the overcranked footage when you're back at the edit bay and have conformed the 60fps footage to play at 24fps.
However, when shooting for slow motion, every movement is exaggerated, so it's easy to miss something that could ruin a slow motion shot when it can only be played back at full speed on set.
The GH4's VFR (variable frame rate) mode allows you overcrank (or undercrank) the frame rate up to 96fps (4x slow motion). The resulting footage is instantly conformed to 24fps, 25fps, or 30fps (depending on the camera's settings), allowing you to immediately review the slow motion footage right from the camera.
Bottom line: The GH4 shoots up to 4x slow motion that can be reviewed instantly to make sure you got the shot.
6. Make It Yours
The GH4 is highly customizable to give you quick access to the functions you need. Now you don't have to scramble to dig through menus just to change a setting before the next shot.
The GH4 is customizable in 3 distinct ways:
Function Buttons
The GH4 has five physical function buttons that you can assign a wide variety of functions to. In additional, there are five more customizable function buttons on the GH4's touch-sensitive LCD screen, giving you a total of 10 customizable function buttons.
Here are the settings you can assign to any of the GH4's ten function buttons:
Motion Picture Format
Motion Picture Quality
Variable Frame Rate
Picture Mode
Synchro Scan
Time Code Display
Mic Directivity Adjust
Color Bars
Silent Mode
Peaking
Histogram
Guide Line
Zebra Pattern
Monochrome Live View
Rec Area
Video-Priority Display
Step Zoom
Zoom Speed
Touch Screen
Wi-Fi
Q.MENU
EVF/Monitor Switch
AF/AE LOCK
AF-ON
Preview
One Push AE
Touch AE
Level Gauge
Focus Area Set
Zoom Control
1 Shot RAW+JPG
1 Shot Spot Metering
Cursor Button Lock
Photo Style
Aspect Ratio
Picture Size
Quality
AFS/AFF
Metering Mode
Burst Rate
Auto Bracket
Self Timer
Highlight Shadow
i.Dynamic
i.Resolution
HDR
Electronic Shutter
Flash Mode
Flash Adjust
Extended Tele Conversion
Digital Zoom
Stabilizer
AF Mode/MF
Restore to Default
Quick Menu
The function buttons work well when toggling settings, but the quick menu is great for more complex settings such as changing the recording mode or picture profile.
Like the function buttons, the quick menu is fully customizable. You have 3 screens each with 5 slots that you can assign different functions to. This allows you control how the settings are grouped together for fast access according to your specific needs.
Here are the settings you can assign to the quick menu:
Motion Picture Format
Motion Picture Quality
Variable Frame Rate
Picture Mode
Synchro Scan
Time Code Display
Silent Mode
Peaking
Histogram
Guide Line
Zebra Pattern
Monochrome Live View
Rec Area
Video-Priority Display
Step Zoom
Zoom Speed
Touch Screen
Photo Style
Picture Setting
Quality
AFS/AFF
Metering Mode
Burst Rate
Auto Bracket
Self Timer
i.Dynamic
i.Resolution
HDR
Electronic Shutter
Flash Mode
Flash Adjust
Ex. Tele Conversion
Digital Zoom
Stabilizer
AF Mode
Custom Settings
The GH4's function buttons are good for toggling individual settings and the quick menu makes it easy to group and navigate through multiple related settings, but what about when you need to change everything?
For example, if you're shooting a documentary with frequent movement between indoors and outdoors, you will need to change white balance, shutter speed, aperture, and ISO to match the environment at a moment's notice.
Or what if you often switch between shooting 4K and overcranked (slow motion) video? You will need to change the frame rate and also remember to adjust the shutter speed to match the new frame rate so that the motion is smooth.
Thankfully, the GH4 has you covered.
The GH4 can save up to five custom profiles that you can instantly switch between to completely reconfigure the camera for a specific function.
The first three custom profiles are accessible on the GH4's mode dial:
Two additional custom profiles are accessible when the GH4 is set to the C3 mode and pressing the menu button:
When you save a custom profile, the GH4's current state is stored for instant recall. Custom profiles store virtually every setting including the recording mode, picture profile, menu settings, audio levels, and even function button and quick menu assignments.
With a flick of the mode dial, you can completely transform the GH4.
Soon, I'll be sharing my custom configuration tuned for video production including function button assignments, quick menu layout, and custom profiles, so sign up for free updates below to receive an update when that guide is available.
Bottom line: The GH4 can be customized to an unbelievable level.
Free Consult
Are you ready to escape from the compromises and workarounds required to use DSLRs for video production, but feel overwhelmed by all the new versatility the Panasonic GH4 brings to the table?
The Panasonic GH4's MFT system may be completely new territory for a many of you. It's such a versatile system that it can all be a bit hard to digest.
I've been shooting on the MFT system and Panasonic's GH-series cameras for several years and I want to help you find your bearings quickly so you can get back to shooting awesome stuff! That's why I'm currently offering free consults to help answer your specific questions.
You Will Love the Panasonic GH4
The Panasonic GH4 is solid, expandable, and extremely customizable. It also has tools to help you shoot more confidently and provides you with instant feedback so that you know you got the shot.
If you're looking for a camera that will free you from the status quo of standard DSLRs where video functionality is merely an afterthought, then you will love the GH4.
More Panasonic GH4 Guides