Review: Sennheiser AVX Wireless Audio System
Part 1: Overview & Setup
Compact, easy to use, and high quality– can we really have it all? I'm testing Sennheiser's new AVX wireless mic system to find out.
Words like "simple" and "automatic" aren't usually used to describe professional gear– in video production, tools must work exactly as you need them to, so manual control is the name of the game and a steeper learning curve is just par for the course.
Total control over the settings has always been essential with wireless mics, as a poor connection means unusable audio. However, with the tagline, "Relax it's an AVX", Sennheiser's new AVX wireless audio system aims to give you a break with automatic features that handle pairing devices, channel selection, and even audio level adjustments without your intervention.
Sennheiser sent over the AVX system, and we've been evaluating its performance before we take it out into the field. I'm wary of using a tool in a professional situation that lacks manual controls, but based on our initial results, I may not have anything to be worried about in this case.
Just the Stats Ma'am
Mic type: Lavalier / Handheld
Connectivity: XLR (3-pin) / 3.5mm TRS (using included adapter)
Sampling Rate: 24-bit / 48kHz
Dynamic Range: Over 120 dB(A)
Signal-to-noise Ratio: Over 90 dB(A)
Level Control: Automatic
Output Level: 0, -10, -20 or -30 dBu
Power
Battery type: Rechargeable Li-ion battery packs (proprietary)
Runtime: 10+ hours (transmitter) / 4+ hours (receiver)
Wireless
RF Band: 1.9GHz (license-free)
Transmission: Digital (256-bit encryption)
Range: 30+ meters (100+ feet)
Channel Selection: Automatic
Other
Weight (including batteries)

Receiver: 84g
Bodypack Transmitter & Lavalier Mic: 152g
Handheld Mic: 314g

Warranty: 2 Years
Price: $899-1299 (depending on configuration)
The AVX System
Depending on the configuration you choose, the AVX wireless audio system includes a receiver, a bodypack transmitter with a lavalier mic, and/or a handheld mic.
The receiver has a built-in 3-pin XLR plug, allowing you to plug it directly into a camera's XLR port. The unit is small and light enough that it doesn't need any additional mounting hardware.
You can also use the AVX receiver with cameras that only have 3.5mm TRS audio inputs (e.g. hybrid cameras such as the Panasonic GH4, Sony a7S, Canon 5D, etc.) with the included adapter cable.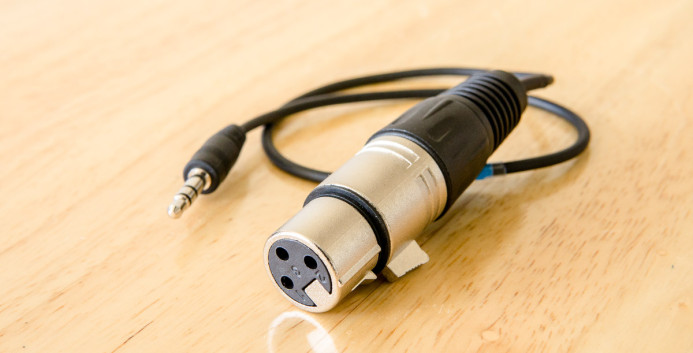 When using the AVX system with these cameras, you can use the included cold shoe adapter to mount the receiver directly to the cameras hot shoe or a cold shoe mount on a cage. The cold shoe adapter holds onto the receiver with friction alone. It would be nice if there were some way to clamp the adapter to the receiver more securely to prevent it from falling out inadvertently.
A belt clip is also provided as another option for mounting the receiver. This could come in handy when using the AVX system with a mixer or external recorder in a shoulder bag.
A clip is also included for the handheld mic. It has a standard 5/8-27 thread for mounting on a mic stand. A 3/8-16 adapter is also provided for additional mounting options.
You also get a foam windscreen for the lav mic. Like any foam windscreen, it won't hold up under extremely windy conditions, but it should block out noise from a passing breeze just fine.
Finally, a charger and a micro-USB cable are included for charging the battery packs for the receiver and transmitter(s).
Form Factor: Really Compact
If you want to keep your rig as lightweight as possible, you'll love the compact size of the AVX system. Both the receiver and the bodypack receiver are very small.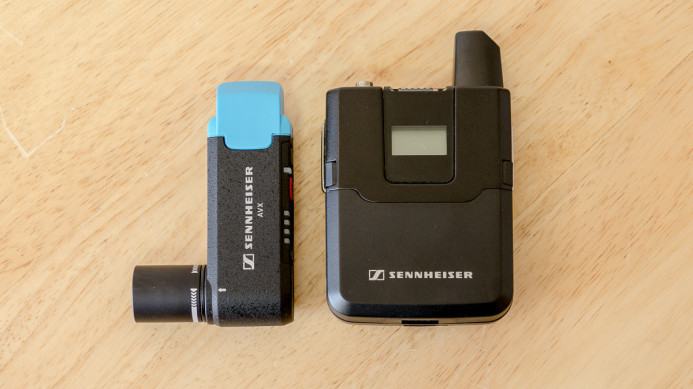 The receiver is so small, it looks like it's just an XLR plug with an antenna. Standard wireless receivers absolutely dwarf the AVX's receiver.
The AVX transmitter is also slim and compact. While other wireless transmitters are similarly small, the AVX's antenna is just a short stub, rather than a floppy antenna that can sometimes get in the way.
At first glance, the AVX's wireless handheld mic may seem quite long, but it's actually very close to the length of a standard handheld mic with the end of an XLR cable plugged in.
Build Quality: Pretty Solid
Though they are lightweight, the AVX's receiver and transmitter do not feel fragile, but rather quite solid. Their housings are made out of a combination of metal and plastic, and do not exhibit any creaking or flexing.
All in all, build quality seems quite good, though long-term use is required to really see how the AVX's components stand up to the rigors of actual production.
Power: A Strange Dichotomy
In order to keep everything so compact, the AVX's components use proprietary rechargeable lithium-ion battery packs.
This is a departure from most other wireless audio systems (even Sennheiser's own well-regarded G3 system) that use AA batteries for power. The AVX's small battery packs cut down on bulk and weight, but it also means that you'll need to pick up additional battery packs specifically for this system.
With battery packs ranging in price from $40 to $50 a pop, costs can add up quickly to ensure that you'll have enough power to get through a long shoot, especially since the receiver only gets about 4 hours of runtime from its battery.
Interestingly, the batteries for the bodypack transmitter and the handheld mic both have good long runtimes of about 15 hours, so a full charge should get you though most days. The main reason you'll still probably want an additional battery pack is so that you can have a spare in case a battery fails unexpectedly.
Alternative Power Options
In a pinch, a single battery for the transmitters should get you through the day, but the receiver will definitely need more juice due to it's small 420mAh battery.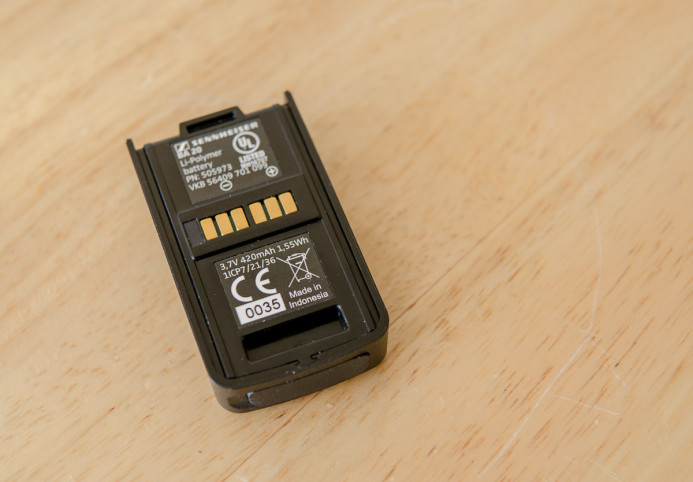 Thankfully, the receiver (and bodypack transmitter) can be powered by its micro-USB charging port. This allows you to get much longer runtimes using affordable USB power packs that are designed to charge phones and tablets.
It will add some bulk to your rig, but an external battery pack like RAVPower's 3200mAh Power Pack is relatively small and should power the receiver for close to 30 hours— more than enough for a full day of shooting.
Charging
Charging the AVX's battery packs is a relatively straightforward affair– they all have micro-USB ports, which you plug into the included USB charger. There is a bit of math problem though, as the AVX system only comes with a single charger.
3 batteries, one charger. This could be a problem.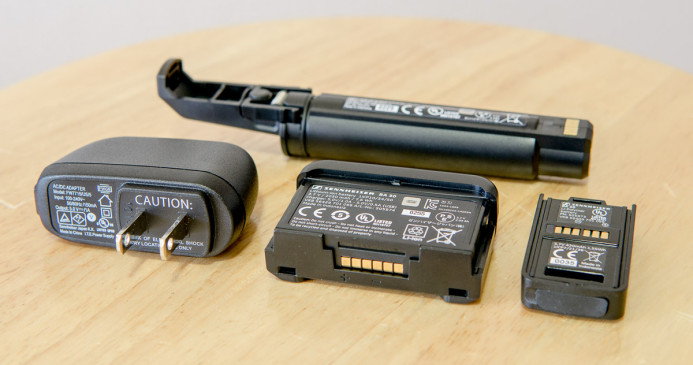 With only one charger, you can only charge one battery pack at a time. This means it will take a lot longer to fully charge all of the AVX's components, since the receiver takes about 1.25 hours to charge and each transmitter takes about 4.5 hours to charge.
Total charging time with a single charger: 10.25 hours
USB chargers are not expensive, and for a wireless system in this price range, it would have been nice if Sennheiser included more than one charger with the AVX system so that you could charge all components concurrently.
That said, a better option in the long run may be a USB charging station. These charging stations are relatively inexpensive and have multiple USB ports for charging up all of the AVX's batteries (and other devices) at once.
USB Charging Stations
I'll probably pick up a USB charging station soon. Here are some of the options I'm considering:
Setup: Quick & Simple
Setting the AVX up for shooting is dead simple– turn on the transmitter and receiver, wait 5 seconds for them to pair with each other, and you're ready to go.
That's it– no manual linking and no channel selection. You're literally ready to record in seconds.
The first time you use the receiver with a particular camera, you'll want to set the receiver's output level to match the camera. Thankfully, this is pretty simple as well.
While monitoring the camera's audio levels, press the "AF Out" button on the AVX receiver to adjust its output level in 10dB increments (from 0dB to -30dB). Once levels on the camera are falling in a good range, you're ready to shoot.
Pro tip: Set the receiver's output level to the lowest setting (-30dB) when using it with the Panasonic GH4 (with the camera's mic input level set to -12dB).
Next Up: Audio Performance
So far the AVX system has shown itself to be quite compact and easy to use, which makes it quite nice for run and gun production like documentaries and events. The reduced bulk on the rig is quite noticeable, and if you have a camera with XLR inputs, you don't even have any extra cables to wrangle.
There are some issues with power– namely the receiver's relatively short battery life. That said, a longer battery life would have resulted in a larger form-factor, so while it may be inconvenient, I can respect the choice Sennheiser made, especially since they provided a way to power the receiver externally without too much additional cost ($20 or less).
We'll continue testing Sennheiser's AVX wireless audio system in part 2, where we'll be evaluating its audio performance. Sign up for automatic updates below to get those results when they're posted.
Related
Sennheiser AVX Configurations
Spare Batteries
External Power Solutions