10 Ways Frame.io Helps You Manage Your Production Like a Boss
High Performance Production Workflows
If you want one good reason why you should use Frame.io to manage your video projects and collaborate with your team: It might just save your sanity.
Managing a production is already hard enough without having to bounce between a mountain of emails and a snake pit of Dropbox video links just to decide who to cast for Slow-witted Man #2. Frame.io is a web-based platform that organizes your production streamlines collaboration with your entire team.
I've recently started using Frame.io to manage projects, and I wanted to share some of the ways that this app will help you manage your production whether you're shooting a zero-budget short film or the next summer blockbuster.
Everything is in One Place
Email chains are vast and deep on a production, which makes finding the right information quite difficult. Worse yet, emails only go to specific recipients, so keeping everyone on the same page can be an exercise in futility.
With Frame.io, all assets and discussions are in one place so your entire team has access to casting videos, location scouts, props, costume designs, and virtually anything else you need for your production.
Bottom line: Keep all of your production's assets in one place to ensure that your entire team is on the same page.
Discussion is Fun Again
Discussion should be simple, but it is a major pain point on most productions. Whether it's audition videos in pre-production or rough cuts in post, discussion is usually disjointed (emailed notes for Vimeo videos) and lack clarity when referring to specific points in a video.
Frame.io's discussion tools not only make it easy to comment on a video, but you might actually find yourself having fun.
For example, when viewing a video, all comments are neatly displayed to the right of the video player.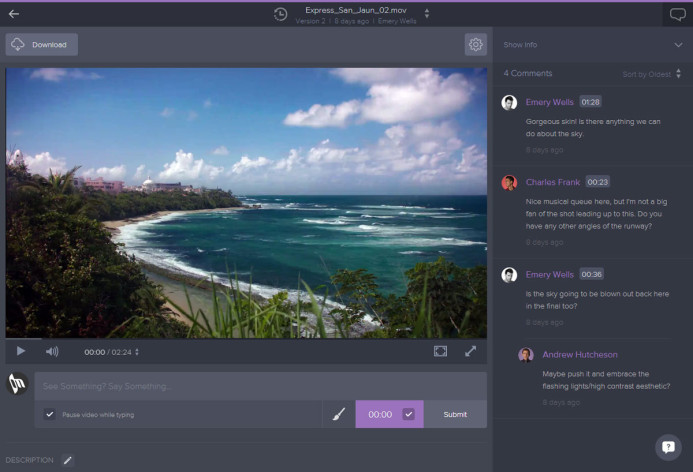 Comments are automatically time-stamped to clearly indicate what part of the video they refer to. Even better, clicking on a comment takes you directly to that point in the video.
If you want to make things even clearer for others, you can also use Frame.io's annotation tools to draw directly on the video. This allows you to highlight details that might be difficult to notice at a glance.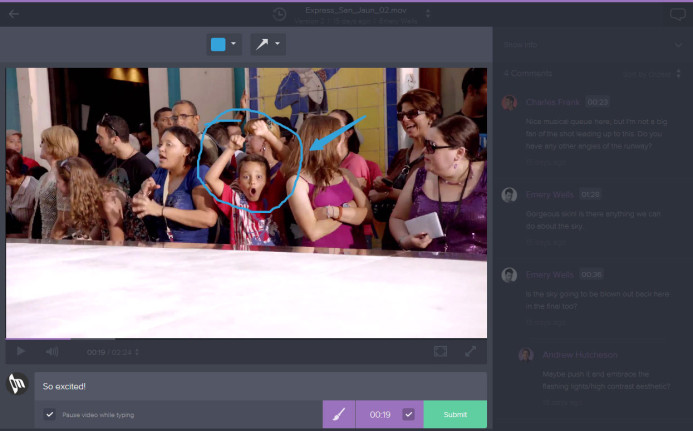 Bottom line: Discussions on a video are clear and productive with Frame.io's easy commenting and annotation tools.
A Smooth UI to Get Up & Running Quickly
Frame.io's clean user interface (UI) makes it easy for you and your team to start using the app without needing hours of training.
In fact, Frame.io's main screen looks surprisingly similar to an NLEs media bin, so most users should be able to jump right in immediately.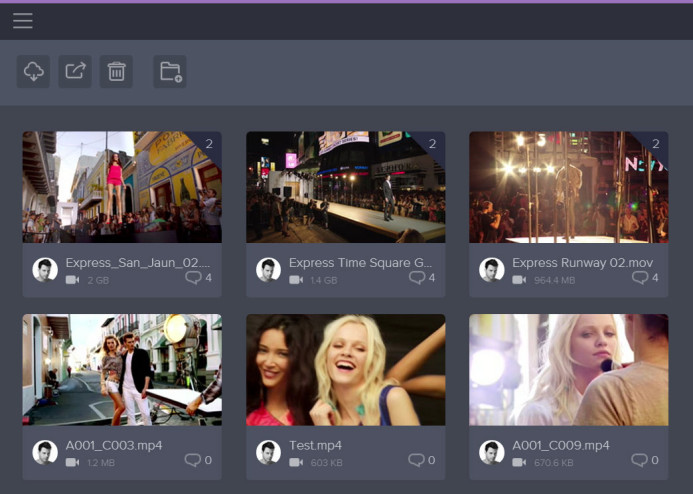 The UI also works a lot like modern NLE software such as Premiere or FCPX. For example, hovering over a video's thumbnail allows you to quickly scrub through the video. The scrubbing might even feel smoother and faster than in certain NLEs.
Double-click on a thumbnail in the project view to open the clip in the viewer for reviewing the video in more detail and adding comments.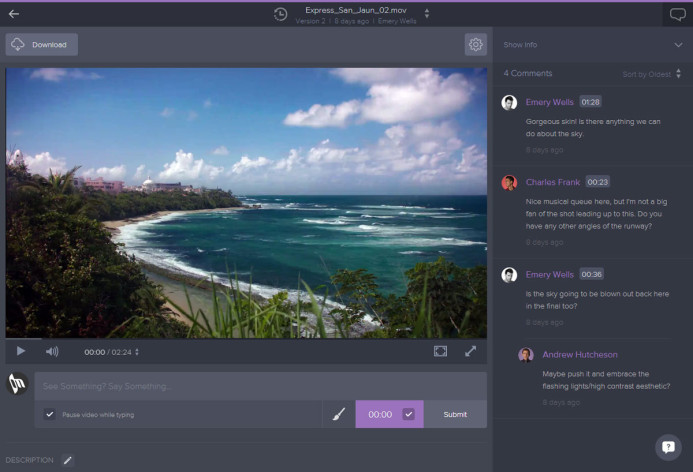 Bottom line: If you're familiar with NLE software, then you'll feel right at home with Frame.io's UI.
Work Fast with Familiar Keyboard Shortcuts
In addition to a clean and simple UI, Frame.io features industry-standard keyboard shortcuts to help you work faster in the app.
For example, hover over a clip in the project view and press the spacebar to pop open a player to quickly preview the video without leaving the current page.
JKL shuttle controls are also at your fingertips for controlling video playback on the dedicated player view. This makes it easy to quickly go to a specific point in the clip.
Pro Tip: Use the keyboard's left/right arrow keys in the player view to move frame-by-frame through a video for precise reviewing and commenting.
Bottom line: Frame.io's keyboard shortcuts help you work fast and efficiently.
Add Structure to Keep Your Project Organized
Frame.io allows you to organize your project's assets with folders so that everyone on your team can quickly find what they need.
For example, when a project is in the early planning stages, you can add folders for things like audition videos, production design, and location scouting.
You can also nest folders within other folders to build exactly the structure you need to keep your project organized. Hopefully Frame.io will add a tree-view to see your project's entire folder structure at once, but it's still relatively easy to get around in most projects.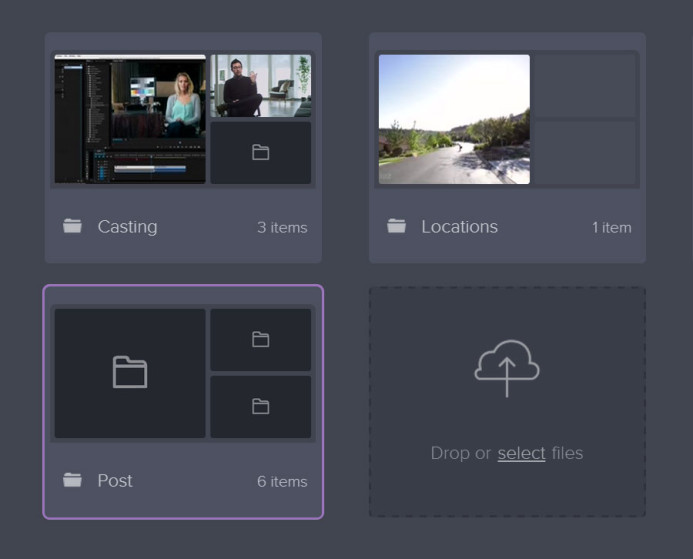 Folders and assets can also be sorted by name, upload date, file type, rating, size, or even manually arranged. This makes it easy keep certain clips front and center, which is especially useful when making final decisions on casting.
Bottom line: Add structure to your project with folders and keep your assets organized.
Surprisingly Fast Uploads
One of the sticking points of any web-based production management tool is that assets like casting videos need to be uploaded before anyone can review and comment on them.
If uploading is slow, this step can feel like more trouble than it's worth, but thankfully uploading videos to Frame.io is fast.
Really fast.
I was skeptical of Frame.io's upload speed claims, but my doubts were put to rest once I started to upload some videos to a project by simply dragging them from the desktop and dropping them into Frame.io's project view.
Multiple videos are uploaded in parallel, cutting down on upload times even further. Once a file has finished uploading, it is optimized for fast streaming so that even large HD files play quickly others to review and add comments.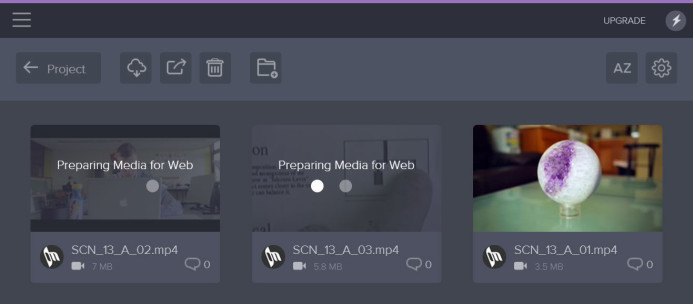 Intelligently Manage & Compare Revisions
Once post-production begins, a scene's edit often goes through multiple revisions. Frame.io makes it easy to track and compare all of your revisions, allowing you make more intelligent decisions during editing.
When you upload a new revision, simply drag it on top of an existing video's thumbnail to group them together. You can see how many revisions a video has by looking at the thumbnail's upper-right corner.

Then, when reviewing a video, you can switch between the different versions from the drop-down list above the player (versions are sorted by upload date).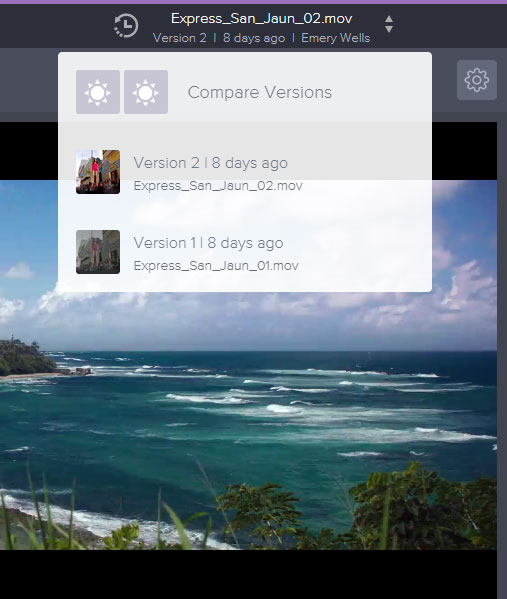 Things get really interesting when you click the Compare Versions button in the versions list. This displays 2 different versions of the video side-by-side and both are played simultaneously, making it very easy to compare the differences between your edits.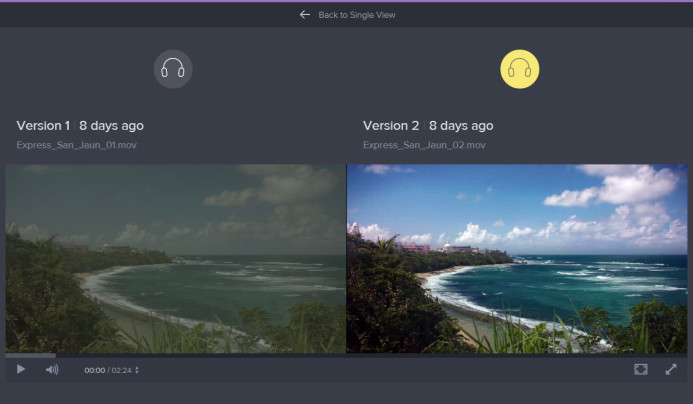 Pro Tip: Click the title above either video to select a different version to compare.
Bottom line: Whether you're adding VFX, working on color grading, or just tweaking the timing of an edit, Frame.io's versioning functionality makes it easy to compare revisions to help you clearly see what your next step should be.
Get a Glimpse Into the Future with Frame Guides
Frame.io frame guides allow you to see how your finished edit will look when delivered in different aspect ratios (e.g. 16:9 for theaters, 4:3 for television, etc.).
Guides for both action safe and title safe areas of the frame are displayed for the selected aspect ratio, highlighting any potential issues with framing.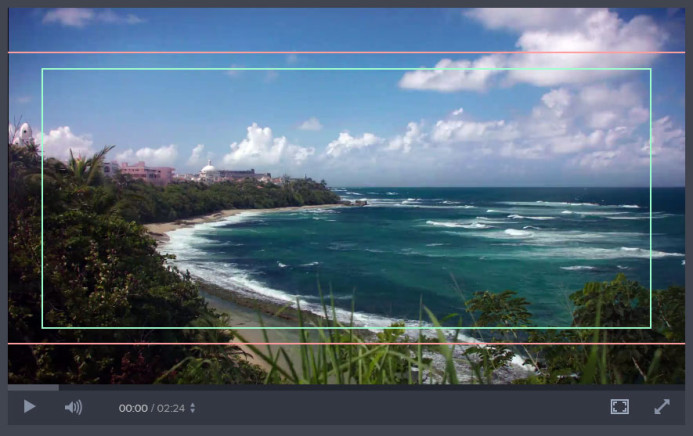 You can also display a mask to hide the parts of the frame that will be cropped out for the selected aspect ratio. Beyond making sure that your framing is right, this is useful for quickly evaluating different aspect ratios to see which one works best for your project.
Bottom line: Frame.io's frame guides and letterboxing allows you to instantly preview different aspect ratios to ensure things look great for viewers.
Share Your Project with Anyone
While authorized users have full access to review and comment on the videos in your project, Frame.io also allows you to grant view-only access of your project to anyone else you choose.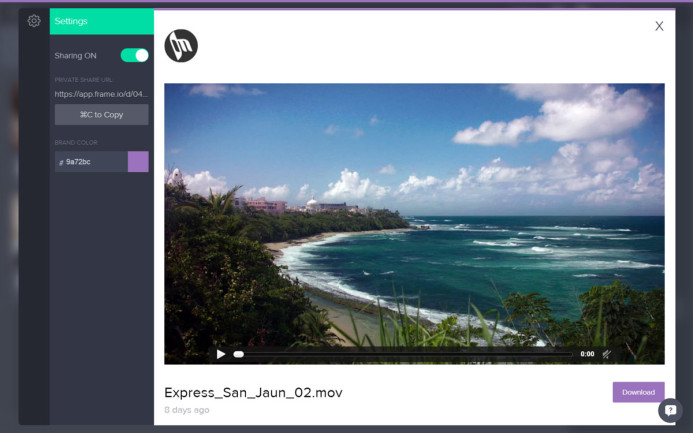 With sharing enabled, you are given a URL that you can use privately share the project with others. These guests can view the videos, but cannot make any changes, allowing you to gather feedback from trusted colleagues without having to give them with full access to the project.
Pro Tip: You can also share a single video or folder by selecting and then clicking the sharing button.
Bottom line: Easily share videos to get feedback from friends and colleagues from outside of the project's core team.
The Cost Starts at Free
Frame.io can be useful for projects of all different sizes, so it's great to see that their pricing options accommodates a wide range of budgets as well.
In fact, you can even use Frame.io for free.
The free plan allows you to manage a single project with up to 2GB of storage space for assets, and up to 5 collaborators. That's perfect for a small short film with no budget to spare.
Frame.io's paid plans start at $15/month and allow you to manage multiple projects with larger teams and more storage space. Bigger projects also generally have larger budgets, so the pricing looks reasonable for what you get.
For example, at just $25/month, you can manage an unlimited number of projects with up to 25 collaborators and 50GB of storage space. If you're just counting key department heads that need access to the project's assets, this should be more than enough for an indie feature.
Bottom line: Small projects can use Frame.io for free, while larger projects have several reasonably-priced options to choose from.
What about the Solo Filmmaker?
Frame.io's collaborative features might sound useful for large teams with big productions, but Frame.io's functionality can also benefit solo filmmakers in several ways:
Keep track of your revisions as you go along — Use Frame.io's versioning feature so you can keep moving forward on refining your edit.
Invite someone to give you feedback on your project — It can be hard to maintain an objective perspective of your edits when you're deep into a project, so Frame.io allows you to invite others to review an edit and give you helpful feedback along the way.
Stay organized — Use folders to organize the different parts of your project from planning to post-production so that you don't get overwhelmed by all the details.
It's free — No other tool provides so much production-focused functionality as Frame.io and also makes it free for small projects.
Making a Great Film Requires a Strong Foundation
Making a film is hard enough on its own, and weak organization or a lack of communication can cause delays, increase budgets, and introduce additional work that distracts you from telling a great story.
In short, poor management can kill your film.
Frame.io gives you the tools you need to organize your project and keep your entire team in sync. Start using Frame.io now to give your projects the solid foundation they need.
Coming up: We'll be looking at case-studies of how productions are using Frame.io and discuss features we would love to see in future updates to Frame.io's platform. Sign up below to receive automatic updates and stay in the loop.
Post-Production Resources
More Resources