How to Choose the Right Memory Card for the Panasonic GH4
Everything You Need to Know
The Panasonic GH4 supports high-quality video recording all the way up to 4K resolutions, but to fully take advantage of it, you might need some new memory cards.
The GH4 is capable of great things, but if your memory card is not up to the task, none of that matters. To make sure you don't lose a single shot, here is everything you need to know about choosing the right memory cards for the Panasonic GH4.
A Tale of Bitrates
The Panasonic GH4 is a particularly interesting camera in terms of memory requirements because it can shoot at several different bitrates, many of which are a first for a DSLR/hybrid camera:
Bottom line: You need a card that can handle the GH4's high bitrate recording modes.
What about 4K?
It's easy to become overwhelmed by all of the GH4's different shooting modes and wonder whether a memory card will work for all of them.
Let's keep things simple: When it comes to memory cards, the only thing that matters is bitrate. This is speed that the GH4 will be sending footage to the memory card at. If the card's write speed can handle the bitrate, you're good to go, regardless of the resolution– 4K, 1080P, or otherwise.
Bottom line: As long as the memory card that can support the GH4's maximum 200mbps bitrate, it can handle anything the GH4 can throw at it.
A Bit by Any Other Name
To make things more interesting, video bitrates are often described in mbps— megabits per second– while memory cards are rated in MB/s— megabytes per second. This small difference in capitalization is the source of much confusion when searching for an appropriate memory card.
Thankfully, converting between bits and bytes is pretty simple:
1 Byte = 8 bits.
For example, the GH4's highest 200mbps bitrate is actually 25MB/s (200∕8 = 25) in memory card parlance. Therefore, to shoot at 200mbps, you need a card that can maintain a minimum write speed of 25MB/s. Now you know what kind of memory card to look for.
Simple.
Bottom line: Capitalization matters. Don't confuse bits (b) and bytes (B).
Card Ratings vs Minimum Speed
Many manufacturers will advertise their card's maximum write speed in big bold letters, but those numbers are essentially worthless. Peak speed means nothing if the card cannot sustain the necessary write speed 100% of the time.
If the card drops below the necessary write speed for even just a moment, the GH4 will stop recording and you lose the shot forever.
What you really need to know is the minimum write speed a memory card will sustain. As long as the minimum write speed is higher than your bitrate, then the card will do the job.
All we need now is a way to quickly determine if a card will sustain a minimum write speed of 25MB/s. Thankfully, the SD Association conveniently released a new speed rating that almost perfectly aligns with the GH4's maximum bitrate.
As defined by the SD Association, memory cards with the UHS Speed Class 3 (U3) rating must be able to sustain a minimum write speed of 30MB/s (aka 240mbps). This means that memory cards with the U3 designation will easily handle the GH4's maximum 25MB/s (200mbps) write speed with room to spare.
Bottom line: Don't be fooled by the marketing. Only U3 memory cards are guaranteed to work properly with the GH4.
U3 Card Options
The SD Association introduced the U3 speed class around the same time that the GH4 was announced, so there aren't too many options available yet. Here are some U3 card options:
Note: Panasonic currently only officially supports memory card capacities up to 64GB in the GH4. While 128GB cards do appear to work in the GH4, some users have reported issues possibly related to the 128GB cards. To be on the safe side, I recommend using only 64GB U3 cards.
Do I Really Need U3 Cards?
You might already have a stack of fast cards. Do you really need to buy a whole set of U3 cards just for the GH4?
Maybe not.
The U3 speed class gives us a standardized rating that we can use to quickly identify compatible memory cards for the GH4, but manufacturers have been making high-performance cards for other demanding cameras for some time.
In the absence of a standardized speed rating, manufacturers just came up with their own. Some label these faster cards with "Extreme" or "Ultra", while others use numbers like "600x" or "300x". If you own such memory cards, you can contact the card's manufacturer to find out what those labels mean to determine if the card is compatible with the GH4.
Bottom line: Your fast cards might be compatible with the GH4. Check with the manufacturer to confirm that the card's minimum write speed is sufficient.
Free Consult
Are you excited about the potential of the Panasonic GH4 and its versatile Micro Four Thirds lens mount, but feel overwhelmed by all the options?
The Panasonic GH4's MFT system may be completely new territory for a many of you. It's such a versatile system that it can all be a bit hard to digest.
I've been shooting on the MFT system and Panasonic's GH-series cameras for several years and I want to help you find your bearings quickly so you can get back to shooting awesome stuff! That's why I'm currently offering free consults to help answer your questions.
A Short Story (and a cliffhanger)
Here's a quick story:
When my GH4 arrived, I didn't have a U3 SD card. I waited too long to pull the trigger and a U3 card wouldn't arrive until days after the GH4's arrival.
All I had were the standard class 10 cards that I've been using for years with my other cameras.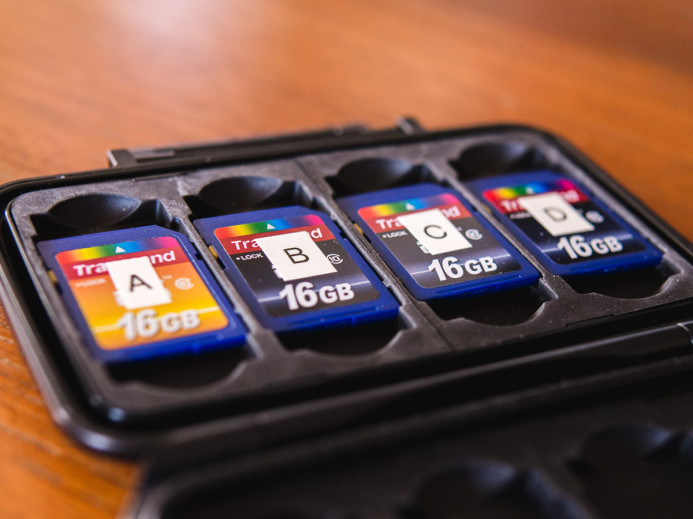 As class 10 cards, I new they could handle the GH4's 50mbps (6.25MB/s) bitrate without issue, but what about the GH4's 100mbps mode? That's where all the good stuff like 4K and 96fps was. Would these lowly class 10 cards choke on such a high bitrate?
With a new GH4 in my hands and a U3 card days from arrival, my only option was to try out the class 10 cards and hope they take the new camera out in a blaze of glory.
I gently slid a class 10 card into the GH4, set the camera to shoot 4K (100mbps), and shielded my eyes as I pressed the record button.
Did the card go out with a bang or did it do the impossible and record 4K without missing a beat? Scroll down to go to the next post in the series to find out what happened! (Hey, I said there would be a cliffhanger)
Related
Data Management for the Panasonic GH4
More Panasonic GH4 Guides