Zoom H5: Run & Gun Audio Recorder
Panasonic GH4 Audio
I've used a lot of audio recorders for documentary work, but they all fell short in one way or another.
Until now.
Some were too bulky, while others were too tall. Some recorders had terrible battery life, and others simply had terrible sound. When you finally found a recorder with great audio, it would invariably end up making your job more difficult with poor level controls or other cost-cutting measures.
At first glance, Zoom's H5 audio recorder doesn't look like it was tailor-made for documentary shooters. Take a closer look though, and you'll find a recorder that delivers the goods where others fall flat.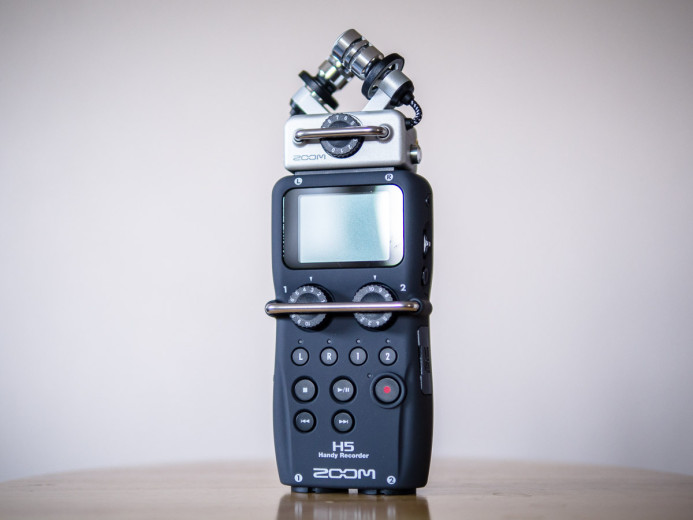 This is a review of the Zoom H5 for documentary shooters and anyone else who needs an external audio recorder for run and gun video production.
Just the Stats Ma'am
Form-factor: Handheld recorder
Discrete Audio Channels: 4
Input Options

XLR/TRS (Combo): 2 (phantom-powered) (2 additional inputs with optional module)
3.5mm TRS: 1 (Mic/Line level)
On-board Mic: Stereo XY Mic

Output Options

Line/Mic out: Yes
Headphone out: Yes

Physical Controls

Input selection: Yes
Input levels: Yes
Output levels: No (menu-based)
Record start/stop: Yes
Transport: Yes (play, pause, stop, etc.)

Price: $269.99 (More information / Check current price)
A Word on Audio Quality
The good news is that most of the audio recorders in the Zoom H5's price bracket deliver good audio quality. Depending on how demanding you are, everything from Tascam's DR-70D and DR-60D to the H5's big brother– the Zoom H6– are fairly comparable in terms of audio performance.
As a result, the areas that really matter when choosing an external recorder for video production is workflow and ergonomics.
Does the recorder help your shoot go more smoothly, or is it a constant distraction?
Is the recorder easy to operate by touch alone, or is it difficult to make adjustments on the fly?
Does the recorder mount easily, or does it turn your rig into an unwieldy mess?
The answers to these questions are especially important for documentary work, where the situation can change at the drop of a hat and you need to be ready to go where the story takes you.
Professional Input Options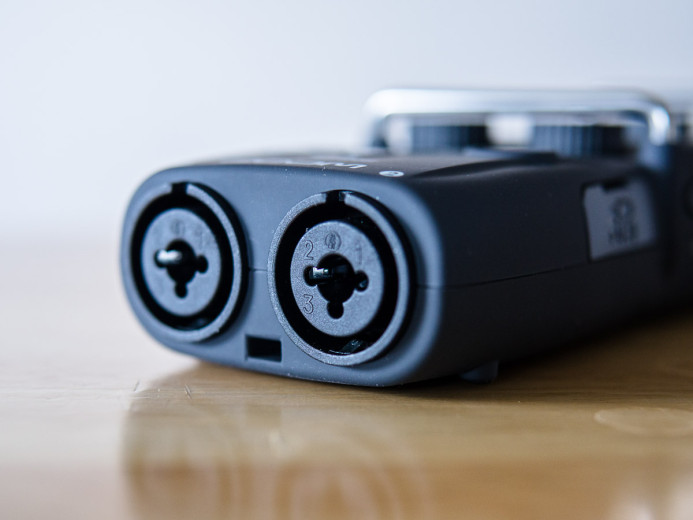 The H5 features 2 phantom-powered XLR inputs at the bottom of the unit, allowing you to use professional mics for your projects.
The H5's XLR inputs are "combo" inputs, which means you can also connect equipment that uses 1/4in TRS plugs, such as guitars and other instruments.
Additionally, the included XY mic module has a 1/8in TRS mic/line-level input, which can be useful when you need to run a line out from a venue's sound board.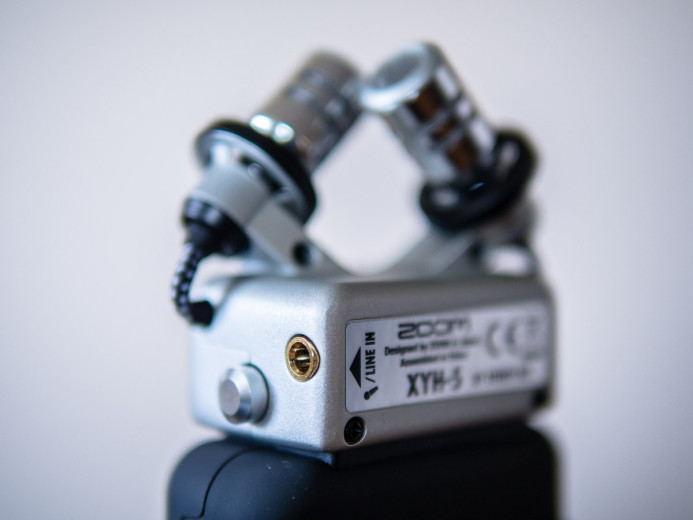 With all of these input options, the H5 should handle most situations quite well. The only thing missing is that the H5 does not use locking XLR inputs. While it's unlikely that the XLR cables will simply slide out, it is possible for the cables to be inadvertently pulled out of the H5's non-locking XLR inputs. This also means you will need to regularly check to make sure the cables are fully seated before you start recording.
Straightforward Manual Controls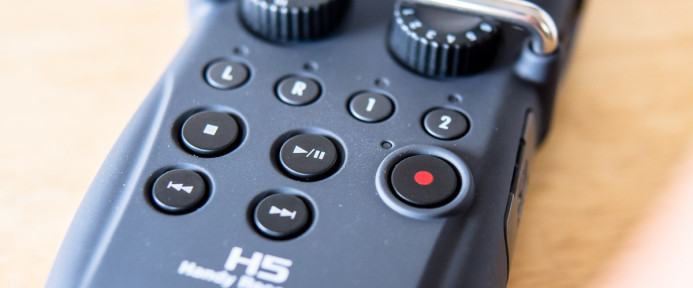 When you're shooting in unpredictable situations, you need to be able to make adjustments quickly and decisively. Gear that gets in your way and slows you down has no place here.
The H5's front-facing manual controls are simple and straightforward. You get access to all the essential controls without being crowded by buttons and switches you'll rarely need.
First, you've got a row of input selection buttons. They are clearly labeled and each feature a red LED to make it absolutely clear which inputs are armed for recording.
The transport controls are exactly what you would expect– play/pause, stop, previous, next. These buttons are larger and raised slightly higher than the input selection buttons above them, making them easy to differentiate. All transport controls have a positive click when pressed, so you know with certainty when a button is pressed.
Perhaps the only thing I would have liked to see is a raised nub on the stop button to make it easier to find the button in the dark. However, the record button starts and stops recording, making this mostly a non-issue.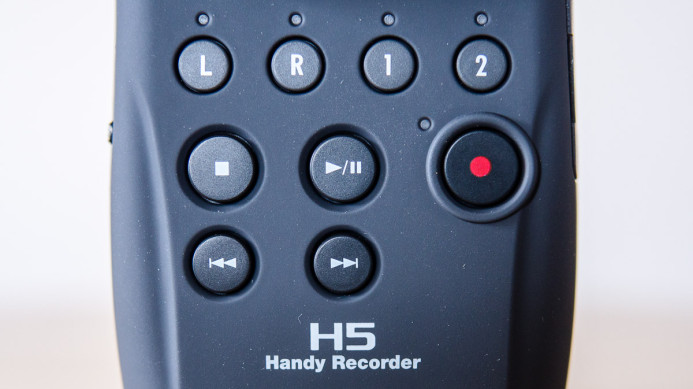 The record button will be getting the most use during production and it is thankfully clearly differentiated from the rest. It is slightly larger than the other buttons and is also surrounded by a raised border, so there should be no problems starting and stopping recording even when the H5 is out of view.
Above the buttons are two knobs for controlling the levels of the combo XLR/TRS inputs at the bottom of the H5. The knobs rotate smoothly, allowing for precise recording level adjustments. A bar extends across both knobs to protect your levels from being affected by inadvertent bumps.
Finally, the LCD display at the top clearly displays the information you need, including recording duration and audio levels. The display features a calming white backlight that automatically turns on when you press a button, allowing you to check your levels even in complete darkness.
Modular Design
Today's audio recorders give you a ton of functionality, from multiple inputs to on-board mics. However, when you mainly need a recorder for working with professional XLR mics, everything else is just taking up space.
The H5 features a modular design that allows you to choose what features you want. The included XY mic can be detached with the press of a button, giving you a solid recorder with clean XLR inputs in an even smaller package.
The H5's modular design also allows you to add functionality if necessary. Use the optional shotgun mic module to capture more directional audio, while the XLR module adds 2 additional combo XLR/TRS inputs to the H5.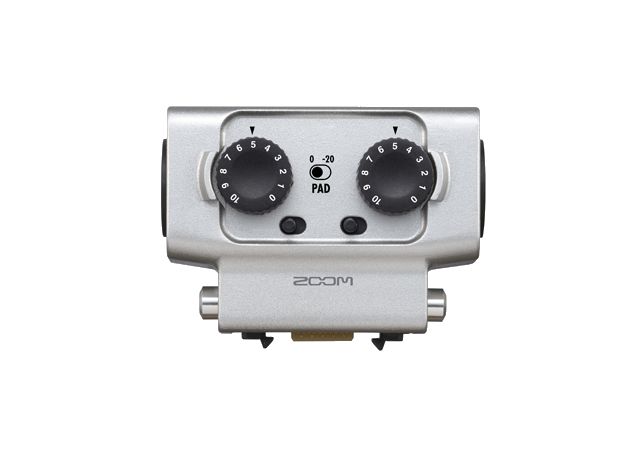 Compact Form-Factor
Some audio recorders are designed to be mounted directly under your camera, which on paper sounds like it would result in a nicely integrated unit. However, in reality, you end up with a setup that is unwieldy to hold and too tall to shoot with.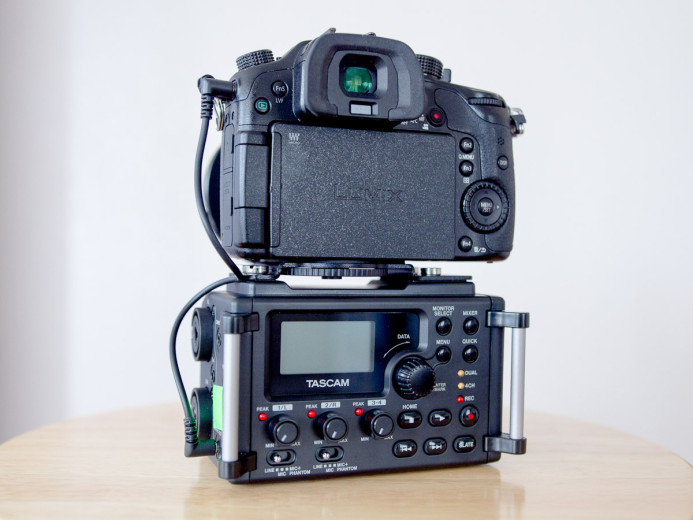 The H5 is already relatively slim, but you can shed even more weight by popping off the XY mic module when you'll only be using the H5's XLR inputs. In this compact form-factor, the H5 fits on your rig without adding a lot of weight or getting in the way.
Easy Rig Mounting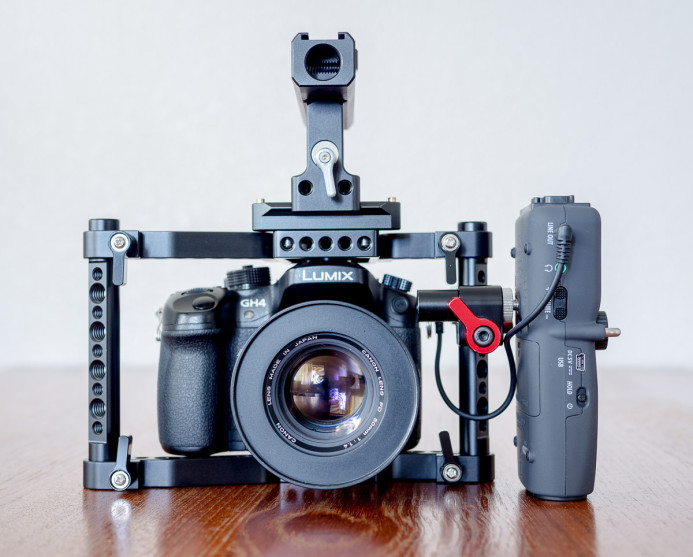 When you're shooting with a shoulder rig, recorders that mount directly under the camera make even less sense. They get in the way, and they don't fit well anywhere else on the rig.
Despite the fact that the H5 isn't designed specifically for mounting on a rig, it's compact shape helps it fit on your rig wherever you need it. You can even mount the H5 directly to the camera's hot shoe and use it as an on-camera mic.
That said, I find something like Rode's VideoMic Pro to be a more appropriate on-camera mic, so I use the H5 primarily as a clean preamp when working with professional XLR mics, especially those that require phantom power. For these purposes, the H5's slim profile allows it to mount cleanly to the side of the camera cage. Mounted this way, the H5's controls and level dials are easily within reach and I can use the camera's own audio meters to monitor input levels as I make adjustments on the H5.
Long Battery Life
Run & gun production rarely allows you the luxury of stopping to change batteries, so power-hungry gear is a out of the question. With up to 15 hours of runtime on just two AA batteries, the H5 may keep going even after your camera goes down for the count.
Of course, using phantom-powered mics will result in lower runtime, but the H5 still gives you 3-5 hours of runtime, which is pretty respectable for just a couple AA batteries.
Easy Camera Connectivity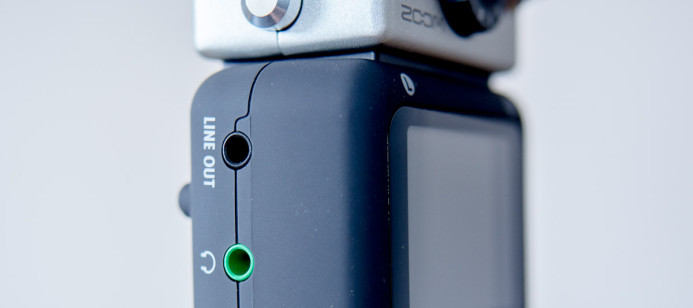 Several audio recorders can attenuate their output level for a camera's mic input without requiring any special cables. However, if the attenuation cannot be precisely controlled, it's next to useless, especially if the level change be changed inadvertently while you're shooting.
For example, the Tascam DR-60D's output level dial is rather finicky so it had to be covered with gaffers tape to avoid further adjustments once it was painstakingly calibrated to the camera's levels.
By contrast, the H5's output level is adjusted via the menu. While diving into the menu may not be as fast as turning a dial, this removes any chance of the levels being changed by an accidental bump. In any case, it only takes a couple clicks to change the setting and calibrating the H5's output level with the camera is something that you would only do once anyway, so it's not a problem.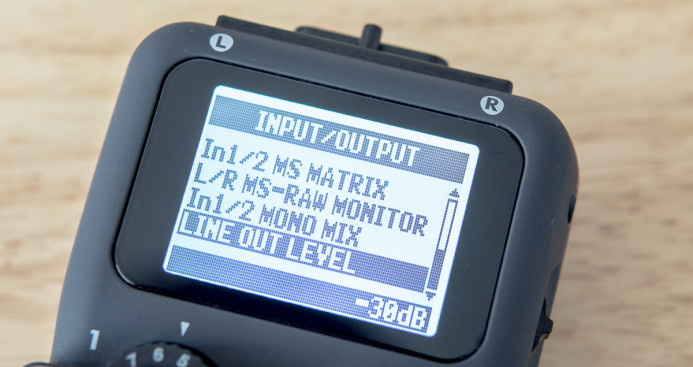 The H5 can adjust the output from line-level down to a -30dB mic level, which should be flexible enough for calibrating the recorder with most cameras. Some cameras (such as the Panasonic GH4) have a hot mic input, so you may want to use something like Beachtek's MCC-2 audio adapter to fully dial in the levels.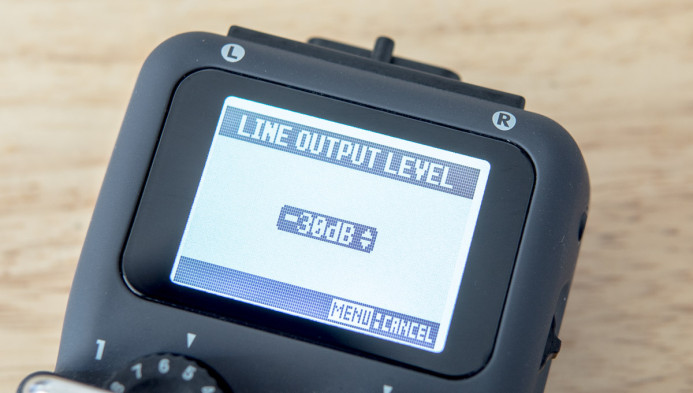 Making the Best of a Bad Situation
Let's face it, no matter how good it is, an external recorder is not a perfect solution, especially when shooting a documentary. It's an additional device, so you'll have to deal with more batteries, more buttons, cables, and more weight on your rig.
This is why opting for in-camera audio recording whenever possible is highly recommended. It's just simpler.
However, when you need to use professional XLR mics or need clean preamps for use with hybrid cameras like the Panasonic GH4, the H5 is currently one of the best options for run & gun shooters thanks to it's compact size, simple operation, long battery life, and easy connectivity.
Related
Panasonic GH4 Audio Resources
Setup Guides
Gear
Issues
More Panasonic GH4 Guides