Panasonic GH4 EVF Eyecup Essentials
Why You Need a Real Eyecup
The Panasonic GH4 has a great EVF, but without a real eyecup you're missing out on its full potential.
Optical viewfinders are completely unusable when shooting video, so DSLR shooters have had settle for keeping their camera at arm's length and using the rear LCD screen. It works, but it's far from ideal.
By contrast, the GH4 has a high-resolution electronic viewfinder (EVF), that allows you to put your eye right up to the camera when shooting video. It's sharp, it's bright, it's awesome.
You can finally use your camera like dedicated video camera, but there's a problem– the GH4's EVF doesn't have a usable eyecup.
At best, you might call it a "bumper", because it doesn't even come close to performing the job of an eyecup.
For starters, a real eyecup needs to actually cup your eye. This is necessary to block outside light so that you can focus completely on what you're shooting.
The GH4's EVF bumper also does nothing to provide a comfortable surface to rest your eye against the camera. This can be a problem when you're shooting all day with the GH4.
The Panasonic GH4 punches way above its weight for video work, which makes the lack of a usable EVF eyecup all the more of a disappointment. The good news is that it is possible to get a real eyecup for the GH4's EVF that will give you the comfort and control you need to use the EVF properly.
In this post we cover what you should be looking for in an eyecup, as well as some solutions that you can start using right away to have a better experience with the GH4's EVF.
Eyecup Essentials
A good eyecup doesn't have to be complicated. Here are the key features an eyecup for the GH4's EVF needs to have:
Note: While it would be nice, unencumbered access to the GH4's flip-out screen is not a requirement for the EVF eyecup. The eyecup's priority is to effectively surround your eye, so it may overlap the screen for the best performance.
However, since the eyecup should be easy to remove, you can quickly remove it to open the screen when necessary without much downtime.
Eyecup Options
The perfect eyecup is not one-size-fits-all– different shooters have different preferences. Thankfully, there are several eyecup options for the GH4's EVF at your disposal:
DIY Fabulous
The GH4's rubber EVF bumper may not be a good eyecup, but it's flared shape is great for holding a proper eyecup around the camera's EVF housing.
This allows you to use any eyecup with the GH4, giving you a wide range of options. As long as the eyecup's opening fits snugly around the GH4's EVF housing, you're good to go.
For example, I've been using a spare eyecup for PNC's VF-4 LCD loupe on the GH4's EVF. The VF-4 has one of the best eyecups around, and with one of Bluestar's microfiber cushions, this eyecup is incredibly comfortable, completely blocks external light, and works great with glasses.
A few modifications were required to get the eyecup to fit, but that only required a couple of minutes with a pair of scissors.
The modified eyecup slips over the GH4's EVF bumper in seconds and stays right where you need it. The eyecup slips off just as quickly when you need to open the GH4's rear screen.
I happened to have a spare eyecup to use with the GH4, but another option that others have had good results with is the replacement eyecup for Zacuto's Z-Finder. At about $15, this eyecup is quite affordable, and as Z-Finder users will tell you, it's quite comfortable as well.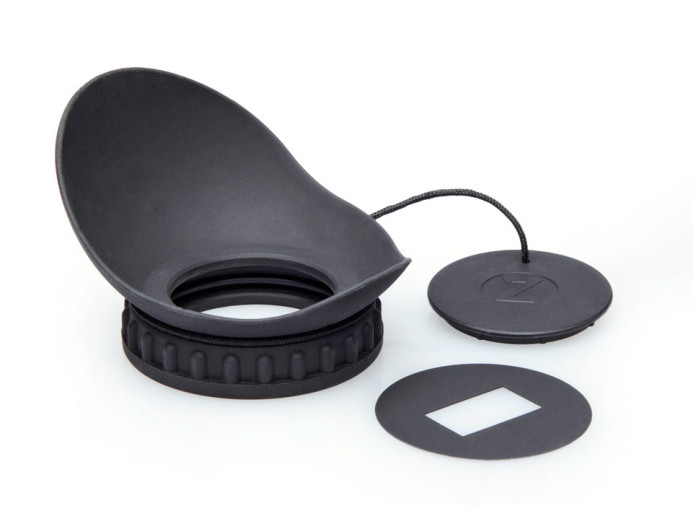 Pros
Selection — choose from a greater variety of eyecups.
Comfort — eyecups for professional video cameras are designed for comfort.
Customizable — make the adjustments you need to get the perfect fit on the GH4.
Affordable — replacement eyecups can be relatively inexpensive.
Cons
Modifications — some modifications may be required to get a perfect fit on the GH4.
Non-native — eyecups designed for larger cameras may not look tailor-made for the GH4 and may be larger and bulkier.
Go Native with Miller & Schneider's G-Cup
If anything speaks to the popularity of the GH4, it's that someone actually designed and manufactured a replacement eyecup that is tailor-made specifically for this camera. Miller & Schneider's G-Cup fully replaces the GH4's EVF bumper with a comfortable eyecup that does a much better job at blocking out errant rays of light when using the EVF than the original ever could.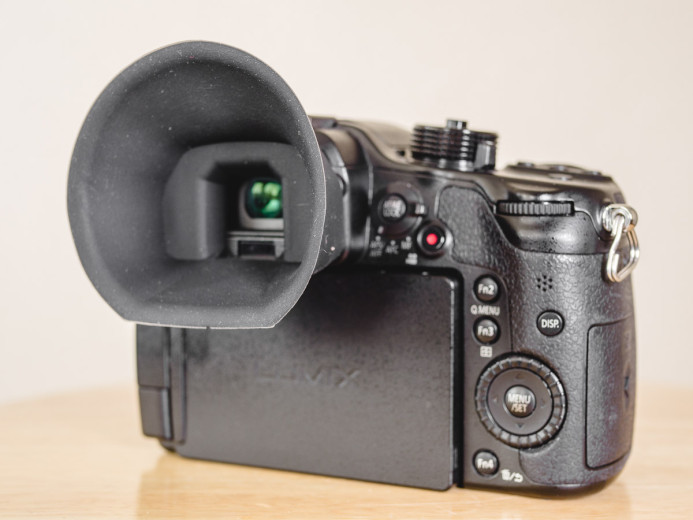 I'm currently testing the G-Cup and will have a full review soon. The G-Cup may not be the right option for everyone, but if you want an eyecup that looks like it belongs on the GH4, the G-Cup is your best bet.
Pros
Native — this replacement eyecup is custom-designed for a perfect fit on the GH4.
Compact size — the G-Cup does not greatly increase the bulk of the GH4.
Compatibility — the G-Cup's circular shape allows shooters to use their right or left eye for shooting without having to rotate or reposition the eyecup.
Cons
Size — the compact G-Cup may be too small for some users with glasses.
Compatibility — not compatible with Bluestar's eyecup cushions, which may reduce comfort for some users.
Cost — $35 for an eyecup may be a bit steep for some despite the custom-designed fit.
Ditch the EVF Entirely
As good as the GH4's EVF is, it's not for everyone. Thankfully, the GH4's flip-out OLED screen is quite good as well, and with a loupe, it's like monitoring your footage on a big-screen TV.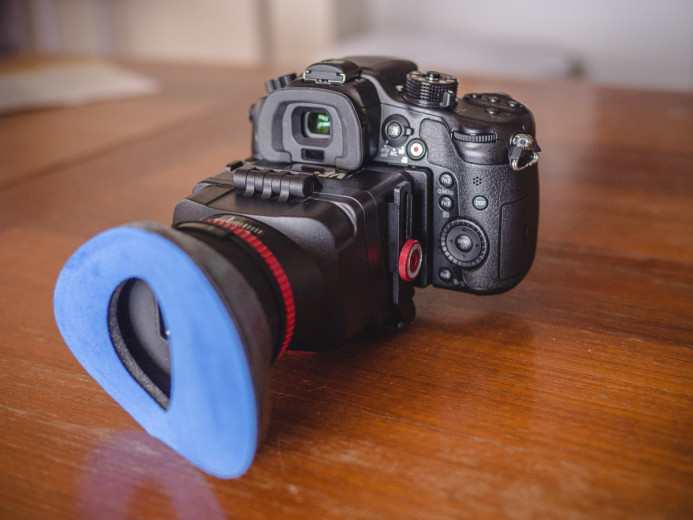 I tend to use the GH4's EVF most of the time because it keeps my setup simple and compact, but you cannot deny that the EVF's image is small. By contrast, using the rear screen with a magnifying loupe such as PNC's VF-4 or Zacuto's Z-Finder delivers a nice large image. The image is large enough to judge critical focus even without focus peaking activated.
However, a good LCD loupe is not cheap, so expect to pay at least $100 for a well-built loupe with quality optics.
Pros
Large image — loupes magnify the rear screen's image 2-3x.
Good eyecups — the above-mentioned loupes feature high-quality eyecups.
Cons
Bulky — loupes contain optics in relatively large housings that make your camera setup larger and bulkier.
Requires extra gear — loupes are mounted on the camera using baseplates or require gluing frames to the camera's screen.
Cost — quality LCD loupes can cost $100-300+
Which Eyecup is Right for You?
With all of these options to choose from, there's a good chance that one of them will be the perfect fit for you.
If you have an eyecup that you love, you may be able to go the DIY route and simply slide it over the GH4's existing EVF bumper.
Want something that looks right at home on the GH4? The tailor-made G-Cup may fit the bill.
Of course, if you're willing to drop the cash and don't mind a bulkier setup, you could always forget about the EVF entirely and use a loupe on the rear screen for some big-screen action. The GH4's excellent OLED screen really shines with a high-quality loupe.
I am continuing to test eyecup options for the GH4's EVF to find the best solution. Subscribe to free updates below to stay up to date on new developments.
Related
Rigging the Panasonic GH4
Cages
Camera Rigs
Rig Components
More Panasonic GH4 Guides