SmallRig VersaFrame Cage
First Impressions
Here's a quick look at SmallRig's new VersaFrame camera cage.
SmallRig sent over their new VersaFrame cage for us to check out, and I wanted to share some initial thoughts on the cage as we prep it for use in production.
Just the Stats Ma'am
Manufacturer: SmallRig
Form-factor: Half/Full cage
GH4-specific: No
Mounting Options

1/4″-20: Yes
3/8″-16: Yes
Hole Spacing: ARRI Standard (9mm center-to-center)

Weight: 372g (including mounting hardware)
Price: $136
Overview
The VersaFrame cage is a modular cage for hybrid cameras. It is adjustable, allowing it to be used with compact mirrorless cameras like the Panasonic GH4 and Sony a7S, as well as full-size DSLRs like the Canon 5D MKIII.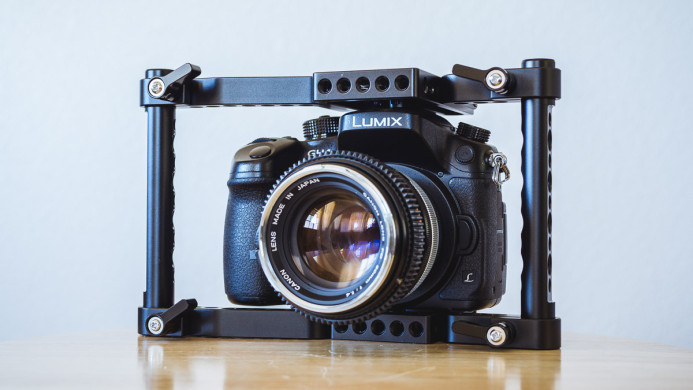 Similar to Wooden Camera's Quick Cage, the VersaFrame cage uses vertical 15mm rods for adjusting the cage's height to accommodate different cameras. You can use any standard 15mm rod for this, but the VersaFrame cage includes a pair of cheese rods— 15mm rods with threaded holes– allowing you to mount accessories to the rods as well.
Additionally, the VersaFrame is unique in that the arms that hold the vertical rods can be moved forward and backward. This allows you to move the arms to optimize accessibility or even remove them altogether.
Build-Quality: Pretty Solid
The VersaFrame cage feels solid. The cage's components are thick and appear to be milled out of solid blocks of aluminum. There is no discernible flex, so the cage creates a very rigid frame when mounted to the camera.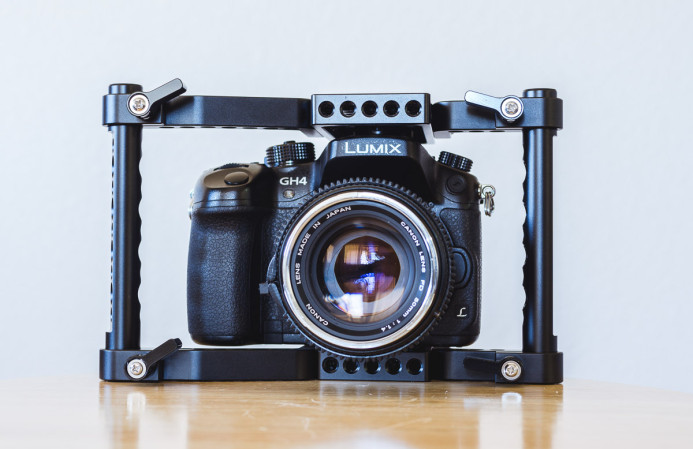 The VersaFrame's matte black anodization is nice, though it doesn't feel as heavy duty as some of the more expensive cages. I'm curious to see how easily the VersaFrame's coating is scratched out in the field.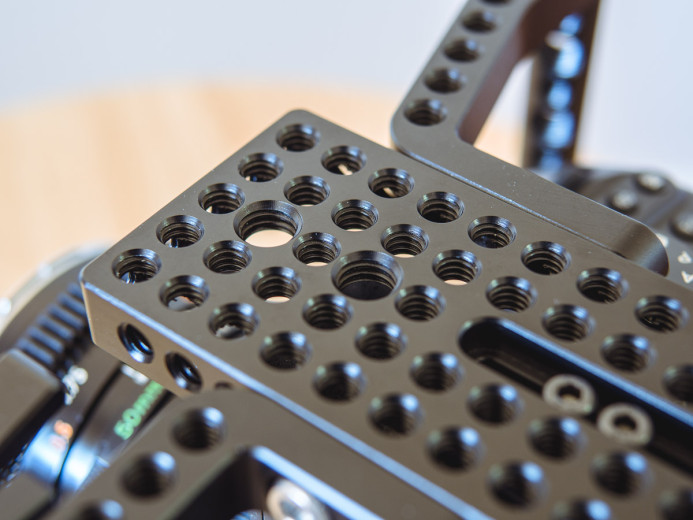 The VersaFrame's threaded holes are smooth and clean, making it easy to hand-thread bolts into the cage. It's nice to see this attention to detail, especially after having to to clean and deburr every single hole on Fhugen's Honu cage before it could even be used.
The threads look strong, but we'll be observing how well the threaded holes hold up to repeated use. If the metal is soft, the threads could strip after a while, which would not be good.
Accessibility: No Issues
Interestingly, we've encountered more accessibility issues with custom-fit cages than with modular cages like the VersaFrame. As the VersaFrame needs to be compatibility with many different cameras, it provides a good amount of clearance for easy access to the camera's controls and ports.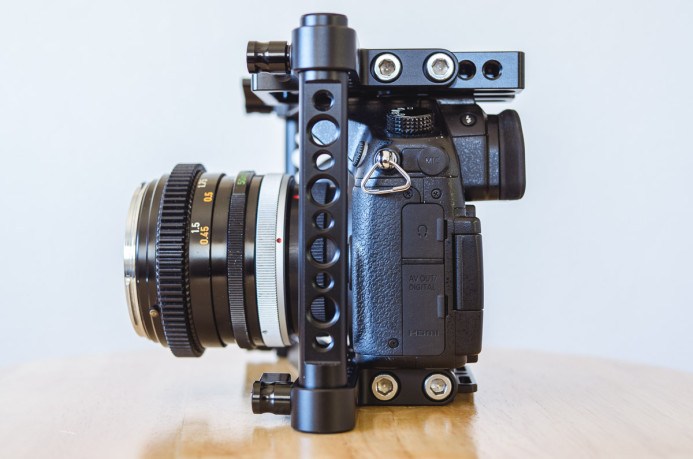 If there are any issues, the VersaFrame's adjustability should help. For example, holding the GH4's hand grip was a bit of a tight fit initially.
You could still hold the camera, but the cage's right-side assembly was moved forward a notch to provide a bit more breathing room.
Size: A Bit Wide
The VersaFrame is designed to fit a variety of cameras, including full-size DSLRs like the Canon 5D MKIII. As a result, the cage is somewhat wider than a compact camera like the Panasonic GH4.
You may need to reconfigure your camera bag to accommodate the larger form-factor when using the VersaFrame.
The GH4's compact size is one of it's key benefits for many shooters. The VersaFrame isn't so large as to be unwieldy, but if you're looking for the smallest footprint possible, a cage specifically designed for your camera is probably your best bet.
Weight: Nice & Light
The VersaFrame weighs in at 372g, which puts it somewhere between View Factor's svelte Contineo GH4 cage, and Wooden Camera's heavy-duty Quick Cage.
It's no feather, but it's not a bowling ball either.
The nice thing about the VersaFrame though is that you have the option to remove one of the arm assemblies if you want to shed some weight for a lighter rig. Each arm assembly weighs a little over 100g, so switching to a half-cage setup quickly brings you within range of View Factor's Contineo cage (the lightest GH4 cage we've found).
You'll give up some protection when you remove an arm assembly, but the half-cage configuration doesn't feel any less rigid than the full cage, so this is a good option if a lightweight rig is your priority.
Modular Design: Interesting Potential
The VersaFrame's modular design is one of the most interesting aspects of its design and I'm looking forward to exploring the potential this has for different shooting situations.
Essentially, each of the cage's components can be removed cleanly without leaving anything behind to get in the way.
For example, a half-cage is sometimes more practical, and you can even choose which side of the VersaFrame cage you want to remove.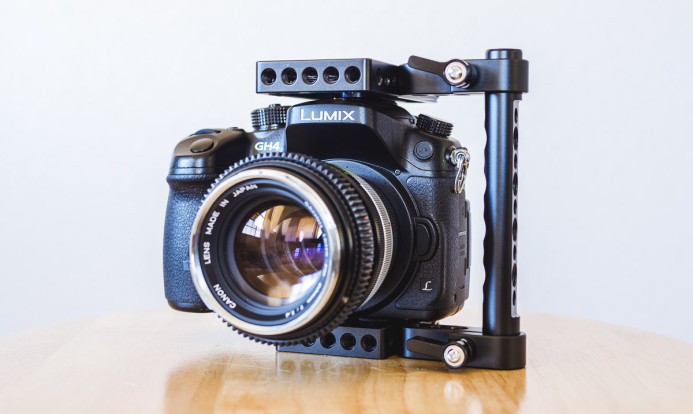 Alternatively, you could strip things down dramatically by mounting just the VersaFrame's cheese plate to the camera's hot shoe.
Of course, you won't get any protection or rigidity from this light-duty setup, but if all you need are some additional mounting points for a top handle and a microphone, this could be a good option. Just make sure not to overload the camera's hot shoe by mounting too many accessories on the top plate.
Compatibility: Baseplate Mounts Flush
Happy days! The VersaFrame's baseplate can be mounted flush with the camera's rear screen, which means you should be able to use an LCD loupe along with this cage. Unfortunately, many cages have a lip that makes it impossible to use a loupe like Zacuto's Z-Finder when the camera is in the cage, so it's nice to see that the VersaFrame doesn't make you choose.
SmallRig is even working on an adapter for attaching the Z-Finder's mounting frames directly to the VersaFrame's baseplate.
Mounting Options: Plentiful, But Also Limited
The VersaFrame's top cheese plate is covered with 1/4-20 and 3/8-16 threaded holes on the top, front, left, and right surfaces. This should provide more than enough mounting points for most rigs.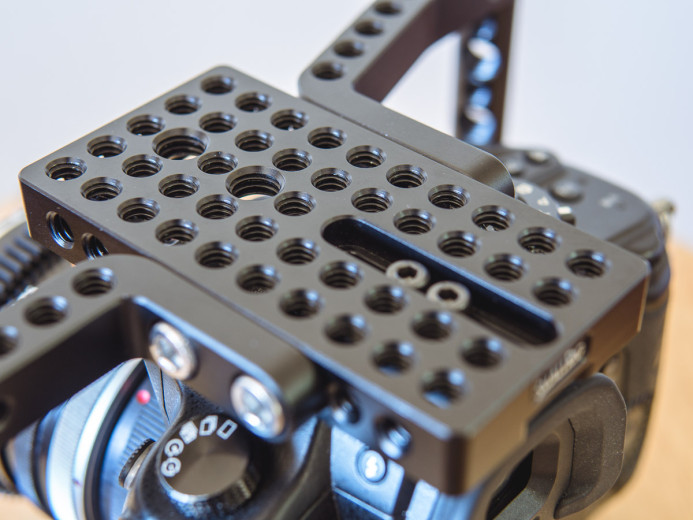 The VersaFrame's side arm assemblies also have threaded holes, giving you even more mounting options.
However, the baseplate is somewhat limited in terms of mounting options. Specifically, it only has two threaded holes along the baseplate's center axis– one 1/4-20 in the rear, and a 3/8-16 in the front.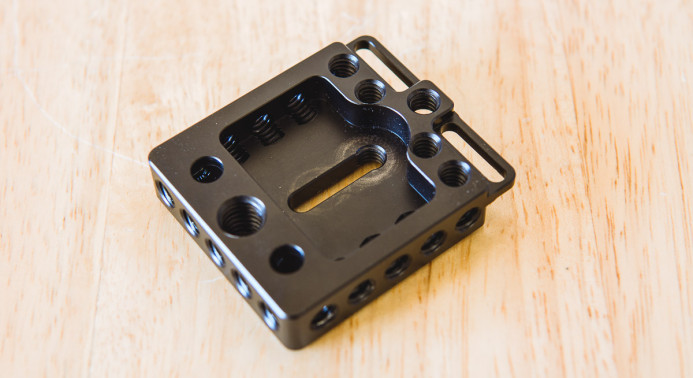 I would have preferred to see a 1/4-20 hole in the front of the baseplate. This may present some balance issues when using certain quick-release plates (for tripods, etc.) with the cage.
Anti-Twist Support: None
Top to bottom (e.g. tripod to lens) anti-twist support is very important, especially when using a follow focus. If the camera rotates on its base, then the follow focus' gears can slip from the lens, causing inconsistent focus pulls.
As such, a cage with anti-twist support can help keep your camera rig completely rigid and properly aligned. Unfortunately, the VersaFrame cage does not have anti-twist features like registration pins on the baseplate that could keep the camera from rotating left or right.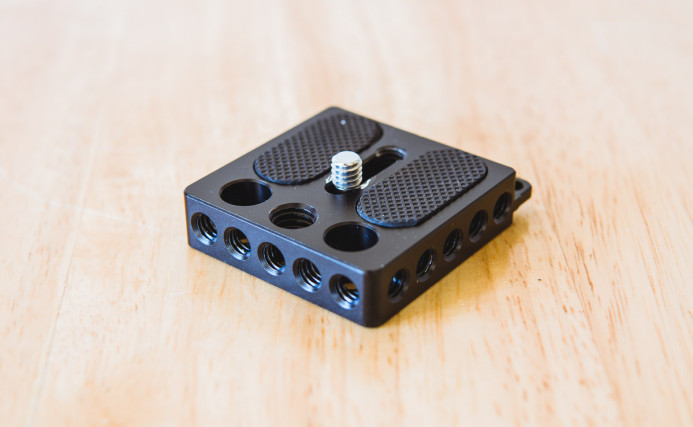 That said, the baseplate's non-skid pads do a good job of keeping the camera from in place. The cage's top cheese plate also does a good job of locking the camera down by clamping down on its hot shoe.
While the camera does not twist easily in the VersaFrame cage, this will be something we'll be watching for in the field, as even a tightly-fitted cage can allow the camera to twist little by little throughout the day.
Heading into the Field
SmallRig's VersaFrame cage feels strong and solid, so I'm hopeful that it will be a good cage for shooters, especially considering how affordable it is.
However, many things are revealed only under the stress of actual production, so the VersaFrame cage is now prepped for shooting and I'm looking forward to see how it holds up.
The in-depth review is coming, so sign up for updates below to be notified automatically when it is posted.
Related
Rigging the Panasonic GH4
Cages
Camera Rigs
Rig Components
More Panasonic GH4 Guides