Wooden Camera NATO Handle Plus
More than just a top handle
There are handles and then there's Wooden Camera's NATO Handle Plus— a versatile handle that redefines what a top handle can do for your camera rig.
Wooden Camera's thoughtful design and engineering are second to none. Their gear is designed with real production needs in mind, both in terms of real-world usability and bomb-proof build quality.
Wooden Camera sent over the NATO Handle Plus and we promptly put it to work in the field on a variety of camera rigs.
Lightning Summary: This is the top handle to get.
Need more input? Let's go.
Get a Grip on Top Handles
In terms of pure usability, a top handle makes all the difference when holding and carrying your camera rig. Just like a briefcase, using a top handle allows you to support your entire rig with just one hand, rather than awkwardly trying to find a way to carry your rig between shots.
Whether you have a fully loaded rig with a shoulder pad, hand grips, audio recorder, and mics, or a minimal rig with just the essentials, a top handle makes carrying your rig a breeze.
A top handle also makes it easier to shoot at uncommon handles. For example, tilting upward while shooting from a low angle is easy and natural with a top handle.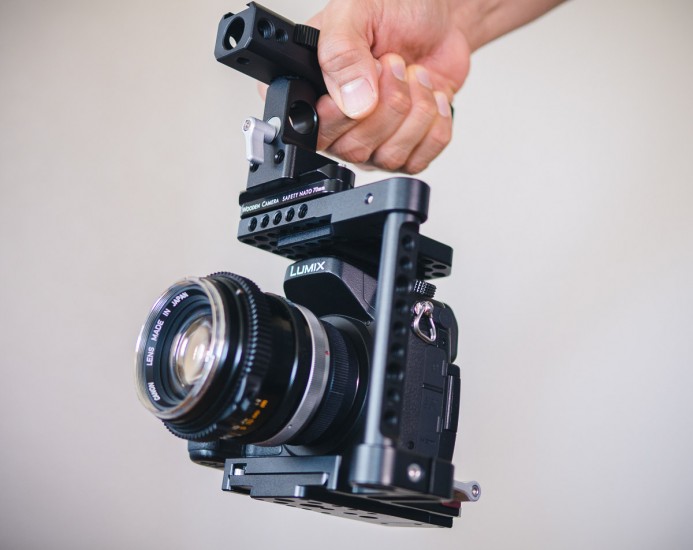 Bottom line: A top handle lets you comfortably carry your camera rig between shots and also gives you new shooting options.
We all know top handles are pretty essential for any camera rig, so let's take a look at what makes Wooden Camera's NATO Handle Plus the right top handle for your rig.
NATO Mount
Wooden Camera's NATO Handle Plus has a quick-release NATO mount that provides much more flexibility than standard bolt-in top handles.
Note: A NATO rail is a flexible quick-release standard supported by several manufacturers such as Wooden Camera, RED, Zacuto, Berkey System, and SmallRig. Compatible accessories can slide along the length of a NATO rail and clamp tightly at the desired position.
Wooden Camera builds "safety" NATO rails that feature spring-loaded pins on each end of the rail to keep accessories from falling off if they are accidentally loosened. Only safety rails should be used to mount accessories that support your rig (such as a top handle).
Quick-Release
The big win with using a NATO mount is that this top handle can be quickly mounted and unmounted from your rig.
Aside from allowing you to break down your rig even faster, a quick-release NATO mount means that you no longer have to worry about having a case that's tall enough for your rig with the top handle attached. Now you can keep the rig compact when in storage, and just quickly slide the NATO Handle Plus on your rig when it's time to shoot.
Flexible
The NATO Handle Plus freely slides along the rail, allowing you to choose the ideal position to balance the weight of your rig.
Expandable
Finally, even a quick-release NATO mount wasn't enough for Wooden Camera– they also added two threaded 1/4″-20 holes to the front of the NATO mount, allowing you to mount additional accessories, such as a 15mm rod clamp.
Bottom line: The handle's quick-release NATO mount provides the flexibility you need to comfortably balance the weight of your rig.
Multi-faceted Hand Grip
The NATO Handle Plus' hand grip is packed with useful features and designed for real production needs.
Comfortable
While leather or rubber may offer more comfort, the NATO Handle Plus' full-metal hand grip is surprisingly cozy. The grip is perfectly sized and fits well in the hand.
Wooden Camera have also beveled every single edge on the NATO Handle Plus' hand grip, allowing you to comfortably support the full weight of your rig without the grip digging into your hand.
Set the Perfect Angle
One of the differentiating features of Wooden Camera's NATO Handle Plus is that it can rotate a full 360°. This allows you to set the hand grip to the perfect angle for your needs.
For most shooters, this allows you to orient the handle in front of or behind the camera to provide the best balance based on your rig's configuration. Of course, you can also rotate the hand grip to any other angle if desired.
To ensure that there is no play or wiggling when setting the angle, the handle uses rosette-style teeth to lock the handle at any angle in 24° increments, giving you more flexibility than you would probably ever need.
Again, Wooden Camera doesn't cut any corners– instead of simply bolting a rosette to the handle, the rosette teeth are milled right into the handle itself, providing rock-solid stability with zero play at any angle.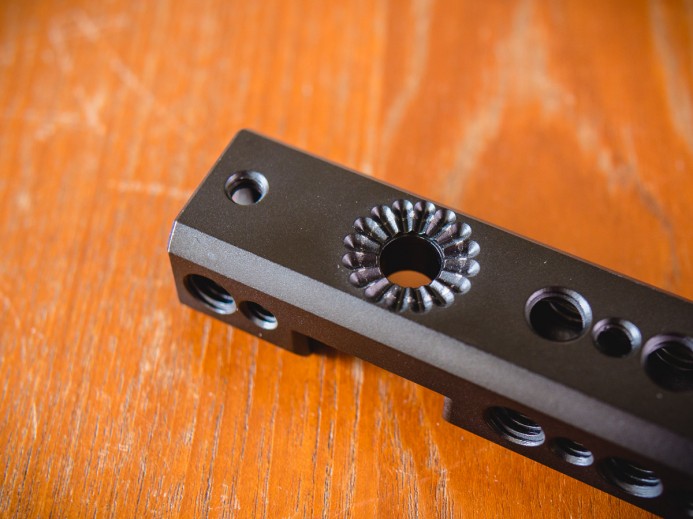 Expandable
If you have a big rig and need a hand grip that extends forward and rearward, Wooden Camera has you covered because the NATO Handle Plus is expandable.
The NATO Handle Plus has a 15mm hole in front and a 19mm hole in the rear, allowing the hand grip to be extended with any standard 15mm or 19mm rod accessories.
The 15mm and 19mm holes employ a 1/4″-20 set screw to lock rods in place, allowing you to use any rod or accessory that conforms to these standard sizes.
For example, a handle with a standard 15mm stud can be used to extend the length of the hand grip to add support for larger cameras and rigs.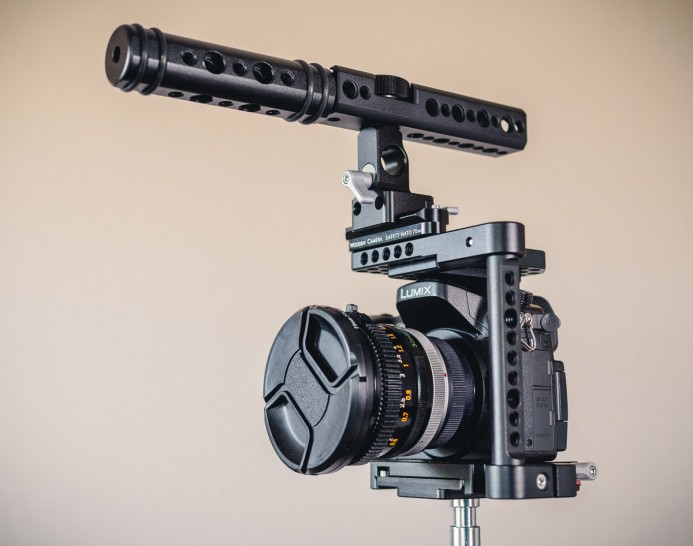 Swiss Cheese
Of course, one of the first things you'll notice is that the NATO Handle Plus' grip is covered with threaded mounting points, alternating between 1/4″-20 and 3/8″-16 sized holes. This provides you with even more options for mounting additional accessories on your rig.
Just like Wooden Camera's Quick Cage, no space is wasted and threaded holes cover all available surface area from edge to edge of the hand grip. As such, you won't be able to mount multiple items in adjacent holes because the bolt's head will overlap neighboring holes.
In reality though, a top handle is for holding, not mounting as much equipment as you can fit. While it's nice that the NATO Handle Plus' grip has so many mounting points, it's more about giving you the flexibility to attach the odd accessory rather than using every hole.
Cold Shoe Mount
As your rig's cage will most likely cover the camera's hot shoe, the NATO Handle Plus' hand grip also features a built-in cold shoe mount.
The cold shoe allows you quickly mount accessories like an on-camera mic.
As expected from Wooden Camera, the cold shoe is not merely bolted to the hand grip– it's milled right into the handle itself. This provides a stronger base for mounting accessories than your camera's own built-in hot shoe could ever hope to offer.
Bottom line: The NATO Handle Plus' hand grip is comfortable, adjustable, extendable, and even offers mounting points for a wide array of accessories.
Versatile Vertical Shaft
Continuing their mission to use every bit of surface area to its fullest, Wooden Camera even redefines what a top handle's typically-underused vertical shaft is capable of by adding a horizontal 15mm rod clamp to the NATO Handle Plus' vertical shaft.
This clamp allows you to leverage your existing 15mm rods to expand the NATO Handle Plus' functionality tenfold. You can mount additional accessories such as an EVF arm or side handles without using any other mounting points on the rig.
Mounting accessories directly to the handle using the 15mm rod clamp also helps you break down your rig faster. You can remove the entire assembly just by sliding the top handle off the NATO rail.
Bottom line: The integrated 15mm rod clamp in the handle's vertical shaft allows you to expand your rig's functionality quickly and easily.
More than just a top handle
At first glance, the NATO Handle Plus looks like any other top handle, but Wooden Camera's attention to detail and thoughtful design makes it so much more.
Its quick-release functionality helps you get ready to shoot faster, while a variety of mounting options allows you to customize the NATO Handle Plus to fit your specific needs.
All this versatility is backed up by Wooden Camera's no-compromise build quality, so you know that the NATO Handle Plus will stand up to the hardships of real-world field production.
Thanks to these benefits, this handle would be recommended at nearly any price. Fortunately, the NATO Handle Plus is quite reasonably-priced compared to top handles offered by other manufacturers, despite delivering a lot more functionality.
You need a top handle for your rig. This is the one to get.
Related
Rigging the Panasonic GH4
Cages
Camera Rigs
Rig Components
More Panasonic GH4 Guides