Panasonic GH4's Shutter Speed Stuck at 1 Second? Here's the Fix.
Unlock the GH4's Shutter Speeds
"Help! The Panasonic GH4 won't shoot at shutter speeds longer than one second. What gives?"
If you've ever experienced this issue with the GH4, you know how frustrating it can be when shooting stills for timelapse or other purposes. The GH4 should be able to shoot long exposures just like any other still camera, but for some reason the shutter speed simply can't be set slower than 1 second.
The good news is that the GH4 definitely can shoot long exposures at slow shutter speeds beyond 1 second. Here's a quick tutorial on restoring the GH4's full range of shutter speeds.
The Culprit: The Electronic Shutter
If you find that you're not able to set shutter speeds slower than 1 second when shooting stills, then there's a very good chance that the GH4's electronic shutter is enabled.
Enabling the GH4's electronic shutter allows you to shoot still at up to 40fps and also prevents any noise from the camera's mechanical shutter, so it can be useful if you're shooting in situations where you must remain silent.
However, the electronic shutter also has some adverse effects, such as increased rolling shutter skew and a limited slow shutter speed range.
Note: The electronic shutter has little to no benefit for video shooters, so it's best to keep it disabled to avoid this issue altogether.
The Fix: Disable the Electronic Shutter
Restoring the GH4's full shutter speed range so that you can shoot exposures longer than 1 second is simple– simply disable the electronic shutter in the GH4's menu:
Switch the GH4's mode dial to Manual Photo mode.
Go to Menu/ Photo Rec (Page 4)/ Electronic Shutter.
Set the Electronic Shutter to OFF.
Once the electronic shutter is disabled, you'll be able to set the GH4's shutter speed for exposures longer than 1 second.
The Fix (Part 2): Disable Silent Mode
Some users may encounter a slightly different situation when attempting to disable the electronic shutter. Depending on your settings, the menu option may be grayed out and inaccessible, preventing you from disabling electronic shutter.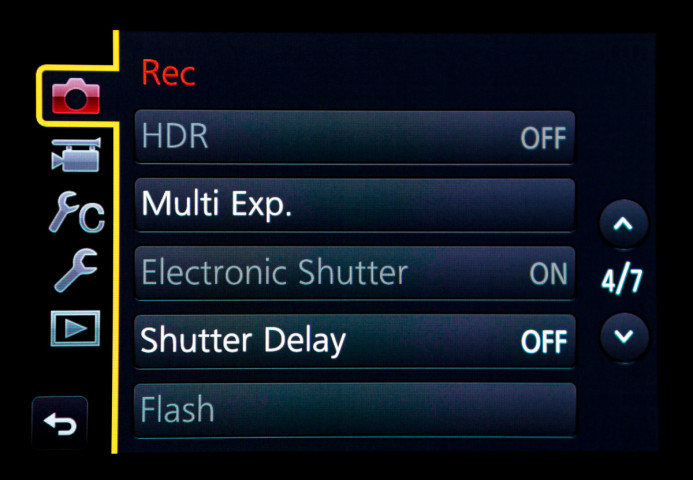 The reason for this is that the electronic shutter is automatically enabled when the GH4's silent mode is enabled.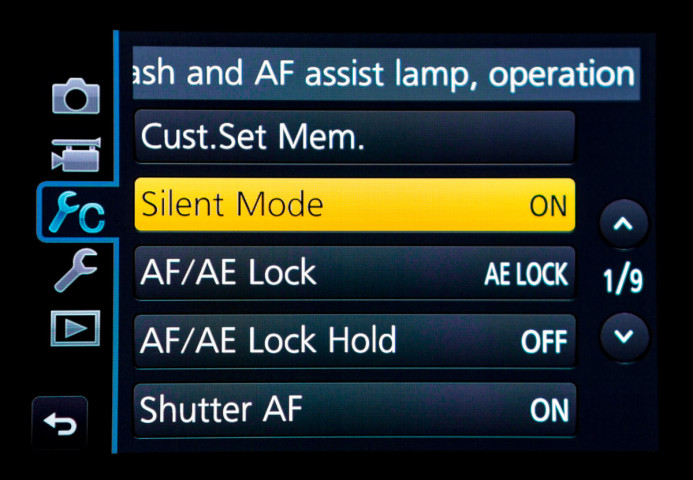 Silent mode changes multiple settings at once to fully silence the GH4's operation, from shutter noise to confirmation sounds. Each of these settings can be individually enabled or disabled, but silent mode makes it easy to silence the GH4 in one fell swoop.
However, when silent mode is enabled, you can no longer change these settings individually. Therefore, in order to disable the electronic shutter, you need to disable silent mode first.
Go to Menu/ Custom (Page 1)/Silent Mode.
Set Silent Mode to OFF.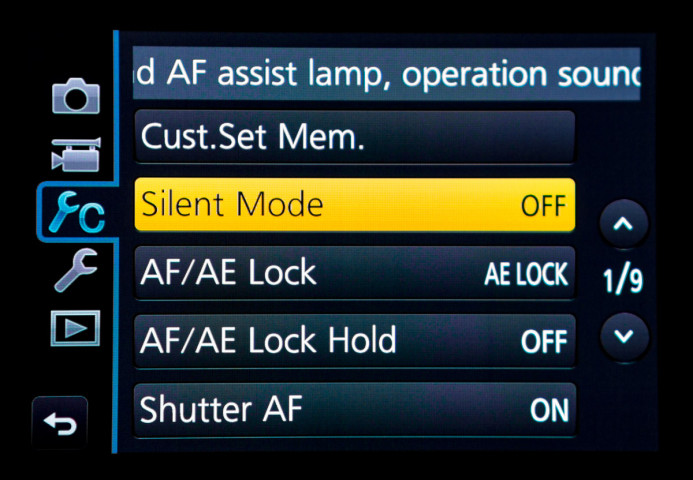 The electronic shutter menu option is now accessible and you can disable it if necessary.
Achievement Unlocked: Long Exposures
With the electronic shutter disabled, you can now shoot stills at slow shutter speeds for sweet long exposure photos and awesome timelapse videos like these:
Related
Configuring the Panasonic GH4 for Video
V-Log
More Panasonic GH4 Guides