Customized Kabocha Curry in Kyoto
Dreaming of Kyoto
Curry is awesome. Kabocha is awesome. Let's have both. Bingo.
If you like curry, you're going to love Japan– there's so much great curry here. If you also like Kabocha, the bright orange pumpkin common throughout Asia, get ready for nirvana.
It's a beautiful day in Kyoto– the sky is blue, the sun is shining, and the temperature is perfect for a leisurely stroll along the riverbank. We walk through open-air markets, visit ancient temples, and wander the city's small side streets.
We meander for hours.
Daylight begins to wane before we realize that we haven't stopped to eat anything all day. When you're in Japan, you mustn't let a single opportunity to try the local delicacies slip by!
A moment later, we find ourselves standing outside a little curry shop on a quiet side street near Kamogawa— the river that runs through Kyoto from top to bottom.
The curry shop is a little weather-worn on the outside, but inside, it's bright and clean. Being the middle of the afternoon, the restaurant is empty and we are quickly seated and given menus.
The menu is simple– it's just a list of ingredients. Select the ingredients you want and they make a custom-tailored curry just for you.
This is amazing.
I see kabocha on the menu and my decision is made in an instant– chicken and kabocha please.
A short time later, a bowl containing the curry of my dreams is set before me.
The kabocha is bright and sweet. It is perfectly stewed in the curry– not too firm, yet not too soft. The chicken is tender and surprisingly flavorful, nicely complimenting the full flavor of the curry itself.
Needless to say, the custom-made chicken & kabocha curry hits the spot.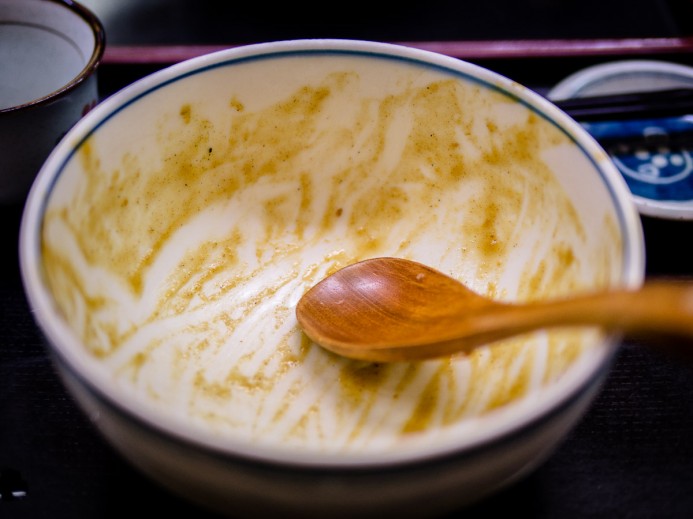 We finish our green tea, thank the curry masters in the kitchen, and head back out to continue wandering Kyoto well into the night.
ごちそう!
Gear
Dreaming of Kyoto
More Stories